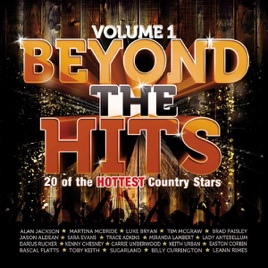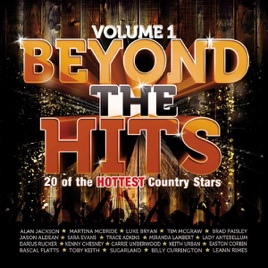 Beyond The Hits, Vol. 1
Various Artists
TITLE
TIME

If Jesus Walked the World Today

Alan Jackson

4:57

Sunny Side Up

Martina McBride

3:01

First Love Song

Luke Bryan

4:36

Can't Tell Me Nothin'

Tim McGraw

3:08

Better Than This

Brad Paisley

3:10

I Believe In Ghosts

Jason Aldean

3:25
5:11

Southern Hallelujah

Trace Adkins

4:10

Guilty In Here

Miranda Lambert

2:42

Slow Down Sister

Lady Antebellum

3:06

Be Wary of a Woman

Darius Rucker

3:26

In a Small Town

Kenny Chesney

4:11

You Won't Find This

Carrie Underwood

3:19

My Heart Is Open

Keith Urban

5:29
3:39
3:51

Hurt a Lot Worse When You Go

Toby Keith

4:21
4:18
4:07

You Take Me Home

LeAnn Rimes

3:55
20 Songs, 1 Hour, 18 Minutes
Released:

Dec 20, 2011

℗ 2011 TriPower
Ratings and Reviews
ALL AWESOME SONGS!!!
First of all, I consider myself a pretty hardcore country fan, and thought I knew most of what was out there. But man was I wrong. This is such an awesome idea.

I've always been an album person and now to have a compilation that has SO MANY of my favorite artists with the songs that were some of my favorites, too! There are so many great songs that go undiscovered on albums - now this is perfect for shedding light on them! I knew a few of these songs, so I felt good about spending the money. What I ended up getting was WAY beyond my imagination. This is some of the best money I've spent for a full album! You can't beat so many songs at such a great price!
Amazing
This is such an amazing idea! So many great songs on this album.It really shows the depths of the artist beyond what you hear on the radio! I can not wait for more volumes to be released!! I am really excited!

Another amazing plus to the this album, is the part of the proceeds go to charity. How can you say no to that?

Kudos to a job well done.
I Love This Album!!
I'm picky when it comes to country music and there isn't a song on this album I don't like! Whoever came up with the idea to compile this is BRILLIANT :) I can't wait to see what's next on Beyond the Hits, Volume 2!