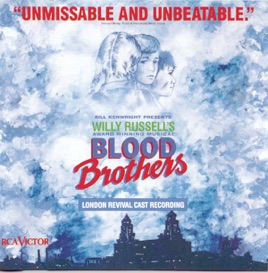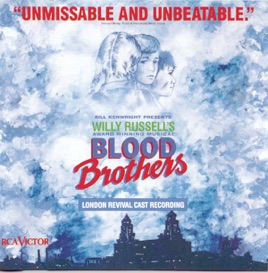 TITLE
TIME

Kiki Dee & Blood Brothers Ensemble (London) (1988)

Kiki Dee, Warwick Evans & Blood Brothers Ensemble (London) (1988)

Terry Melia, Annette Ekblom, Con O'Neill & Blood Brothers Ensemble (London) (1988)

Shoes Upon the Table (Reprise)

Warwick Evans

Long Sunday Afternoon / My Friend

Con O'Neill & Robert Locke

Kiki Dee & Blood Brothers Ensemble (London) (1988)

Kiki Dee & Blood Brothers Ensemble (London) (1988)

Con O'Neill, Robert Locke & Blood Brothers Ensemble (London) (1988)

Robert Locke & Blood Brothers Ensemble (London) (1988)

Jeffrey Gear, Dee Robillard & Blood Brothers Ensemble (London) (1988)

Warwick Evans, Con O'Neill & Terry Melia

Kiki Dee, Con O'Neill & Annette Ekblom

Kiki Dee, Warwick Evans & Blood Brothers Ensemble (London) (1988)

Kiki Dee & Blood Brothers Ensemble (London) (1988)
18 Songs, 58 Minutes
Released:

May 11, 1993

℗ 1993 BMG Music
Ratings and Reviews
I love this cd!
I saw this show while i was in london, and it was amazing!!! The music for this show is really good, and it it brings back memories to me. I would suggest that you buy it and see the show if you can!
Good but where is the credit?!
I love this show and this is the 1988 revival cast with Kiki Dee (of "Don't Go Breaking My Heart" fame) and yet only Willy Russell gets any of the credit not the cast singing...and there is a great 1995 London Cast recording with David and Shaun Cassidy as well as Petula Clark. I hope iTunes gets this version as well as Shaun Cassidy's albums...
Very Good
Blood Brothers is an interesting show as far as musicals go because it actually has a plot, and it doesn't have a happy ending. Compared to most musicals, the style is slightly different, but it adds a nice touch. A few of the songs on the album are a little disappointing; however, it has some absolutely terrific songs that more than make up for it. Among my favorites are "Shoes Upon the Table" (-reminiscent of Leading Player in "Pippin") and "Tell Me It's Not True" (-heart-wrenching). The "Marilyn Monroe" numbers will make you want to go out dancing, and you'll definitely sing along. Some of the dialogue has been left in the numbers, and that greatly helps because it gives you a better idea of the plot. Hope you enjoy! ~Kat the Cat