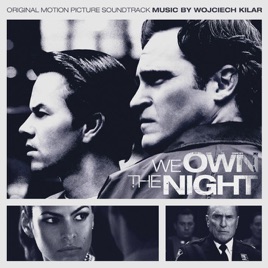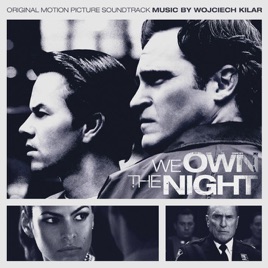 We Own the Night (Original Motion Picture Soundtrack)
Various Artists
TITLE
TIME
PRICE

Blondie

5:47
Album Only

David Bowie

4:07
Album Only

Blondie

6:27
Album Only

The Specials

2:53
Album Only

The Jarmels

2:14
Album Only

Coati Mundi

6:19
Album Only

Louis Prima

2:02
Album Only

Descarga Total

6:03
Album Only

Just a Gigolo / I Ain't Got Nobody

Keely Smith & Louis Prima

4:38
Album Only

Tito Puente

4:09
Album Only

Jackie Gleason

3:03
Album Only

Wojciech Kilar

1:30
$0.99

Wojciech Kilar

1:30
$0.99

Wojciech Kilar

0:42
$0.99

Wojciech Kilar

2:08
$0.99

Wojciech Kilar

1:24
$0.99

Wojciech Kilar

1:45
$0.99

Wojciech Kilar

2:59
$0.99

Wojciech Kilar

1:03
$0.99

Wojciech Kilar

1:08
$0.99

Wojciech Kilar

0:50
$0.99

Wojciech Kilar

1:48
$0.99

Wojciech Kilar

2:46
$0.99

Wojciech Kilar

2:56
$0.99
24 Songs

℗ 2007 Lakeshore Records
Customer Reviews
Free the Jarmels
I have been looking to buy A Little Bit of Soap (the song, not the cleanser) for some time. I was happy to see it here. However, I can't buy the individual song. Let's treat this like a real album and sell the music by the song.
Don't want to buy the entire album
I want to know if individual songs from this album will ever be available by itunes? I need A Little Bit of Soap by the Jarmels for my Oldies library.It is not available on any other albums.