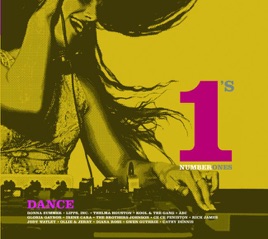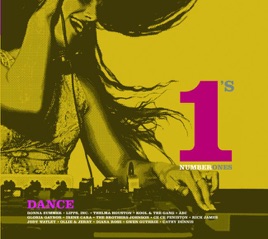 Number 1's: Dance
Various Artists
TITLE
TIME

Lipps, Inc.

7:48

George Benson & Thelma Houston

6:58

Celebration (12" Version)

Kool & The Gang

4:57

The Look of Love (USA remix)

ABC

7:39

Gloria Gaynor

6:18

Stomp! (12" Promo Version)

The Brothers Johnson

6:23

Finally (12" Morales Mix)

CeCe Peniston

7:03

Super Freak (12" Version)

Rick James

7:05

Looking for a New Love (Extended Club Mix)

Jody Watley

7:30

Breakin'...There's No Stopping Us (12" Club Mix)

Ollie & Jerry

6:47

I'm Coming Out (12" Version)

Diana Ross

5:22

Ain't Nothin' Goin' On But the Rent (12" Club Mix)

Gwen Guthrie

7:16

Touch Me (All Night Long) [Touch This Mix]

Cathy Dennis

7:44
13 Songs, 1 Hour, 28 Minutes

℗ 2007 Universal Music Enterprises, a Division of UMG Recordings, Inc.
Customer Reviews
YES!
i came out of the closet to this cd! it was great!
Great collection
"Don't Leave Me This Way" is sung by Thelma Houston (Whitney's Aunt), and NOT by George Benson. Let's give proper credit to the SINGING artist. Someone obviously didn't listen to this female vocal track and think "this doesn't sound like George Benson..." This is still a great collection even though some of the singles feel like they are in a weird mixed company.
PERRRTY GOOD!
not too bad it could have benn worse but any way i loved it!!!!