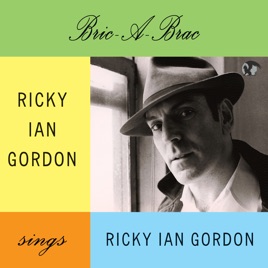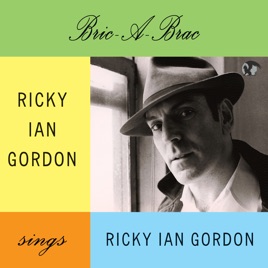 | | TITLE | | TIME |
| --- | --- | --- | --- |
| | Bric-A-Brac (from "Autumn Valentine") | | |
| | | | |
| | | | |
| | | | |
| | Interior (from "Autumn Valentine") | | |
| | | | |
| | | | |
| | Lullaby (from "Autumn Valentine") | | |
| | Three Leaving (from "The Making of Americans") | | |
| | The Different Albertines (from "My Life With Albertine") | | |
| | | | |
| | | | |
| | We Will Always Walk Together (from "Dream True") | | |
| | My Mother Is A Singer (from "Sycamore Trees") | | |
| | Fried Dough (from "The Grapes Of Wrath") | | |
| | | | |
| | Threnody (from "Autumn Valentine") | | |
| | | | |
| | Home Is There (from "Toby Tyler") | | |
19 Songs, 1 Hour 8 Minutes
Released:

Feb 14, 2011

℗ 2011 Blue Griffin Recording
Ratings and Reviews
excellent review of this CD on Talkin' Broadway
Although the qualities of refined elegance and raw, aching emotion might not seem like natural partners, Ricky Ian Gordon makes the mixed marriage miraculous. On two CDs in a new series where he is the sole singer and sole instrumentalist (as a skillful, un-showy pianist), he presents his own melodies matched most often with pre-existing poems, but sometimes his own lyrics or those by collaborators on theatre projects.

The second in the series of Gordon singing Gordon, Bric-A-Brac, is, overall, even more varied--with fewer tracks that play the heavy tragedy card. This time, there are 19 selections, and again it's mostly poems set to music, with a couple of the poets from the earlier CD again turning up: Edna St. Vincent Millay (three times) and one more sample each of Langston Hughes (the spare, enchanting "Kid in the Park" with its dignified loneliness) and X.J. Kennedy. Kennedy's is "Pont Mirabeau" wherein the movement words--"flowing" and "running" for the River Seine or time's passage, contrasting with the stationery "I stand here"--are matched to brief but effective musical undercurrents or tensions, reinforcing those things without overdoing the idea to become obvious cliché. Dorothy Parker's words present four treats sampling his settings for a project called Autumn Valentine; her tart and sometimes arch, polished words given new subtext and suggestion of more emotion under the masks by the composer's more probing and emotional choices.

Gordon the wordsmith is again not heavily sampled, and, with the exception of "Fewer Words," a reaction to an unnamed other lyricist's work, the choices are from his musicals rather than separate songs. From My Life with Albertine, lyrics co-written with Richard Nelson (a score which was recorded), we have "The Different Albertines." This six-minute track becomes a lovely kind of mood painting, with just piano for two full minutes before the vocal comes in, with the specific images of Albertine sung adoringly and with wonder. From the longtime work-in-progress Sycamore Trees, produced recently at Signature Theatre in Virginia, comes "My Mother Is a Singer," a hypnotic piece that swells musically and emotionally; it's dedicated to his own mother, a Borscht Belt singer.

Even though this life is such a mess, Mama
Just to hear your voice is a caress, Mama
Sing.
Sing of how it's not what you expected
Sing, and disappointment is directed.

And in his promise of eternal connection written for his lover at the end of his life, "We Will Always Walk Together" is intense. This song, which became part of the score to the musical Dream True, remains strongly persuasive and comforting, ending here with the melody hummed. "Fried Dough," with words by Michael Korie, from the opera of The Grapes of Wrath, is evocative of the Steinbeck saga's slice of struggling life where the family has nothing to cook and the opinion that "Ya' got the right to feel blue, but don't let it show," matched to a haunting but appropriately unpretentious melody.

The album ends with a major highlight, a sweet and satisfyingly lilting piece that lets us come full circle with these two Gordon CDs, as the track "Home Is There" has the same theme as the first song on the first CD ("Finding Home"). "And when you've got somebody to care/ Home is there" goes this lyric by Bill Solly to a children's musical from Gordon's career, a musicalization of the novel Toby Tyler. And as for Ricky Ian Gordon, he clearly seems at home with all kinds of material and subject matter.