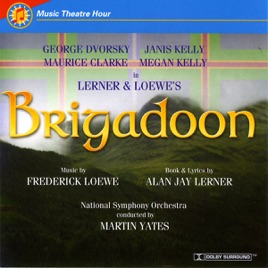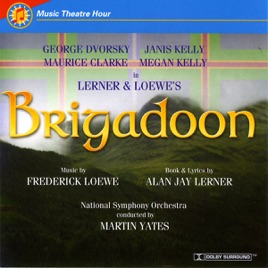 Brigadoon (Original Studio Cast)
Various Artists
TITLE
TIME

National Symphony Orchestra

1:07

Chorus

3:38

Vendors' Calls / Down In MacConnachy Square

Company

4:36

Janis Kelly & Girls

4:49

I'll Go Home With Bonnie Jean

Maurice Clarke & Chorus

7:43

George Dvorsky & Janis Kelly

4:05

Megan Kelly

3:44

Girls

1:34

Maurice Clarke

2:29

Almost Like Being In Love

George Dvorsky & Janis Kelly

2:41

National Symphony Orchestra

4:44

Gordon Sandison, Harry Nicoll, George Dvorsky & Men

4:18

George Dvorsky & Janis Kelly

4:10

Megan Kelly & Chorus

2:37

From This Day On / Farewell Music

George Dvorsky & Janis Kelly

5:08

Janis Kelly, Maurice Clarke, George Dvorsky & Chorus

4:26

Chorus

1:52
17 Songs, 1 Hour, 3 Minutes

℗ 2005 JAY Production Ltd
Customer Reviews
Amazing!
This is the best recording I have herd so far of this musical. Its AMAZING!
Brigadoon
The eternally lovely Lerner and Lowe score for the fantasy musical "Brigadoon" gets a nearly definitive recording here. For most listeners it's hard to forget the marvelous film version, but a recent replay shows Gene Kelly having audible vocal problems and really ancient sound further mars that effort. Perhaps more significantly there are major cuts in the music performed in the film version.

Here is the nearly complete score (much more music than in the film album) and contemporary sound as well. The cast is relatively unknown, but they sing with verve and the National Symphony Orchestra plays the lovely orchestrations with top-notch ensemble and color.

Strongly recommended for lovers of classic Broadway.
Best Album Available
The unknown cast sings really, really well, taking the barnacles off of the old recordings. "Fritz" Loewe was, IMHO, an even better melodist than Richard Rogers, and that's sayin' somethin'.

I wish the mix was better - the producers thought lots of goopy reverb on the orchestra was a good idea, and I disagree. But the playing is good, the singing is better, and a whole lot of the score is revealed.