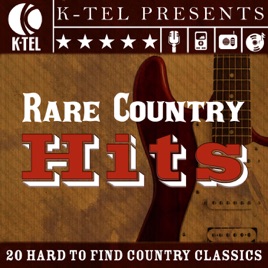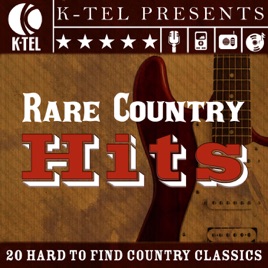 Rare Country Hits - 20 Hard to Find Country Classics (Re-recorded)
Various Artists
TITLE
TIME

Country Music In My Soul (Re-recorded)

George Hamilton IV & Sylvie

Burning Bridges (Re-recorded)

Jack Scott

Lookin' for Love (Re-recorded)

Johnny Lee

Ode to the Little Brown Shack Out Back (Re-recorded)

Billy Edd Wheeler

Cher Big Mamou (Re-recorded)

Eddy Raven

Everybody But Me (Re-recorded)

Ernie Ashworth

The Sheriff of Boone County (Re-recorded)

Kenny Price

Another One of My Near Misses (Re-recorded)

Bobby Bare & Donnie Bowser

I Just Came Home to Count the Memories (Re-recorded)

Cal Smith

Makin' Believe (Re-recorded)

Kitty Wells

The Whole World's Making Love Again Tonight (Re-recorded)

Bobby G. Rice

You've Still Got a Place In My Heart (Re-recorded)

Leroy Van Dyke & Sylvie

Left Side of the Bed (Re-recorded)

Mark Gray

From Barrooms to Bedrooms (Re-recorded)

David Wills

Something About You I Love (Re-recorded)

Johnny Paycheck

Shake Me I Rattle (Squeeze Me I Cry) [Re-recorded]

Marion Worth

Loves Me Like a Rock (Re-recorded)

Nat Stuckey

Freda Comes, Freda Goes (Re-recorded)

Bobby G. Rice

Here's One for Me (Re-recorded)

Ernie Ashworth

Cher Jole Blon (Re-recorded)

Eddy Raven & Jo-El Sonnier
20 Songs, 56 Minutes
Released:

Jun 15, 2007

℗ 2007 K-tel
Ratings and Reviews
Nope.
I'd agree with the other reviewer jusmythots if it wasn't for the fact that most country fans knows these songs inside out, remembers them from the radio, and remembers that K-Tel never offers THOSE songs, they only offer cheap re-recordings that sound terrible. The iTunes customer deserves better, and so do these country music stars whose hits are being forgotten because garbage like this is taking its place.

This is a must-avoid. You deserve better, so do your homework.
Rare Country Hits
These songs are a treasure that so called country fans could never appreciate. They bring back a world of pure love, innocence and respect that lives no more.
K-tel Re-records
Don't waste your money. This album was compiled by the greedy folks at K-tel.