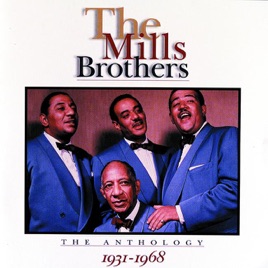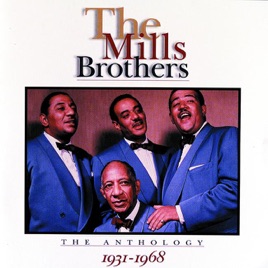 TITLE
TIME

The Mills Brothers & Ella Fitzgerald

The Mills Brothers & Louis Armstrong

You Tell Me Your Dream, I'll Tell You Mine

The Mills Brothers & Louis Armstrong

(I Yi, Yi, Yi) Wish Me Luck Amigo

You Always Hurt the One You Love

I Don't Know Enough About You

I Guess I'll Get the Papers (And Go Home)

Too Many Irons In the Fire

Across the Alley from the Alamo

You Never Miss the Water ('Til the Well Runs Dry)

Is It True What They Say About Dixie?

The Mills Brothers & Al Jolson

I Love You So Much It Hurts

I've Got My Love to Keep Me Warm

Someday (You'll Want Me to Want You)

When You Were Sweet Sixteen

Nevertheless (I'm In Love With You)

Please Don't Talk About Me When I'm Gone

The Mills Brothers & Tommy Dorsey

She Was Five and He Was Ten

You're Nobody 'Til Somebody Loves You

The Mills Brothers & Count Basie

The Mills Brothers & Count Basie
48 Songs, 2 Hours 18 Minutes
Released:

Aug 1, 1995

℗ 1995 Geffen Records
Ratings and Reviews
A Must Have
If you must have a Mills Brothers album, then this is it. This album contains many of the original recordings of the Mills Brothers, which is almost a rarity for groups that lasted this long. In this album, you can hear their styles change over the years, from the fast paced "Tiger Rag", to the slow and pleading song "Till Then," to their last hit, "Cab Driver," again fast paced, much reflecting the ages that they lived in. This is simply an excellent, well rounded album that documents the Mills Brothers at their best.
Remember when
Born in the mid 40's music was always a part of our house growing up. Sinatra, Dorsey, James et. el., The one thing I remember the most was listening to my Grandma and mom sing the songs of the Mills Brothers. You Tell Me Your Dream...was my grandma's favorite, I think mom liked Paper Doll. I remember liking them all. Now my daughter is getting married and I am burning a wedding CD as a favor for the guests and I wanted something special to close the album with, so I turned to the Mills Brothers and Daddy's Little Girl, I can't think of anything better.
Mills Brothers Anthology
This is a great collection of Mills Brothers music! Many of the songs in this collection are not available in other collections, including You Tell Me Your Dream and The Jones Boy. My only complaint is that the collection does not include the Mills Brothers haunting rendition of Down by the Old Mill Stream. Despite that omission, however, this is a collection that I would highly recommend to anyone who is a fan of the Mills Brothers.