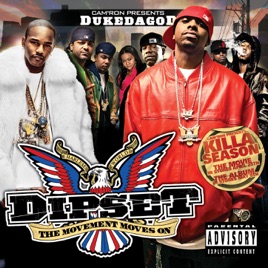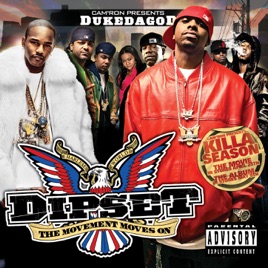 Cam'ron Presents Dukedagod Dipset the Movement Moves On
TITLE
TIME

Ya'll Can't Live His Life

Cam'ron

7:19
3:43

Grill Em (Remix)

JR Writer Featuring Cam'ron and Hell Rell

4:57

War

Cam'ron Featuring Hell Rell

3:52

I'm Laughin'

Hell Rell Featuring Cam'ron

5:01

It's Nothin' (Remix)

Cam'ron Featuring Hell Rell

3:47
3:26

Getting Money

J.R. Writer Featuring 40 Cal.

4:14
4:31

Losin' My Love

Juelz Santana

2:54

Frustrated

Jim Jones Featuring Max B and 40 Cal.

5:23
1:25
3:24

Gutta Talk

40 Cal. Featuring J.R. Writer

3:49

We Ain't Going No Where

A-Mafia

2:51
2:10

Funkmaster Flex Hot97 Freestyle

Cam'ron, JR Writer and Hell Rell

13:44
17 Songs, 1 Hour, 16 Minutes

℗ 2006 Diplomatic Man, Inc. Manufactured and Distributed by Asylum Records.
Ratings and Reviews
cam'ron presents duke the god /the movement moves on
As always they bring the heat .What else would you expect from the dip? you know a group is hot when you cop they albums with out even previewing. Don,t forget pick up that hell rell ,FOR THE HELL OF IT and that jr writer , I FORGOT THE NAME BUT ITS GONNA BE HOT ANYWAY SO GO GET IT. dipset all day.
Cam is the man!!!
This album is on of the best compulation albums I've ever copped. Killa season is gonna be off the chain after hearing this. F*** the samples just buy the album cause it's tight. (Sniff, Sniff, Cough x2, Sh*t)...
this is hot
This album is the best yet. My favorite is Grill Em with JR Writer
About The Diplomats
Cam'ron's Harlem-based Diplomats crew (also known as Dipset) centers around Juelz Santana, Jim Jones, JR Writer, and Diplomat Records president Freekey Zeekey. Though the first two volumes of Diplomatic Immunity, released in 2003 and 2004, did well commercially, they've also made a fortune off a series of underground mixtapes, some of which have received wide distribution via Koch. ~ Andy Kellman
ORIGIN

New York, NY

GENRE