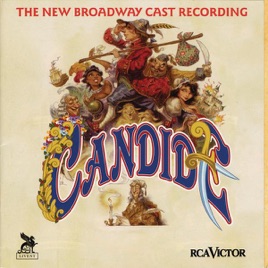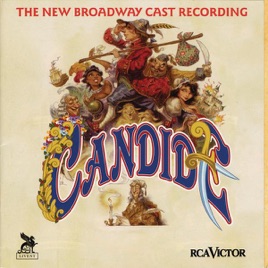 TITLE
TIME

Candide Orchestra (1997) & Eric Stern

Jim Dale, Jason Danieley, Harolyn Blackwell, Brent Barrett, Stacey Logan, Candide Orchestra (1997) & Eric Stern

The Old Lady's False Entrance

Andrea Martin, Jim Dale & Candide Ensemble (1997)

Best of All Possible Worlds

Jim Dale, Jason Danieley, Harolyn Blackwell, Brent Barrett, Stacey Logan & Candide Ensemble (1997)

Jason Danieley & Harolyn Blackwell

Jason Danieley, Mal Z. Lawrence & Jim Dale

The Old Lady's Second False Entrance

Andrea Martin & Jim Dale

Arte Johnson, Mal Z. Lawrence, David Girolmo, Harolyn Blackwell, Jim Dale & Candide Ensemble (1997)

Jason Danieley & Harolyn Blackwell

Andrea Martin & Candide Ensemble (1997)

Jason Danieley, Harolyn Blackwell, Andrea Martin, Jim Dale & Candide Ensemble (1997)

Candide Orchestra (1997) & Eric Stern

Jason Danieley & Candide Ensemble (1997)

I Am Easily Assimilated (Reprise)

Jim Dale, Mal Z. Lawrence & Brent Barrett

Nanne Puritz, D'Vorah Bailey, Seth Malkin, Stacey Logan, Jim Dale & Candide Ensemble (1997)

Jim Dale & Candide Ensemble (1997)

Jason Danieley, Andrea Martin & Stacey Logan

Mal Z. Lawrence, Arte Johnson, Jim Dale & Candide Ensemble (1997)

Candide Ensemble (1997), Jason Danieley & Harolyn Blackwell
24 Songs, 1 Hour 11 Minutes
Released:

Jul 29, 1997

℗ 1997 BMG Music
Ratings and Reviews
One of my favorites
As a collector of Candide recordings, I like this one quite a bit. It's definitely in my top 3. The original broadway cast recording is definitely very essential and best, but after that one I thoroughly enjoy listening to this one. The Bernstein recording from 89 is takes the operatic approach and does it very well, I think, but it is too long and at times a tad boring and especially hard to understand at times. I usually prefer the tone and diction of musical theatre performers. There are many that prefer the 74 recording, and this one is very similar to that except this one includes a full orchestra.

If you find Jim Dale annoying, do not buy this recording. I personally LOVE Jim Dale and that adds to the reasons I like this version. I encourage you to buy this whole recording and not just single songs because it flows very nicely and some tracks include transitional narration from Jim Dale. Eric Stern is fine as Candide, and Harolyn Blackwell is a lovely sounding Cunegonde. Some say that Blackwell wasn't very funny, but I don't really care about that in the context of a recording. This Cunegonge sounds lovely, and that's all I care about. Probably the best part of this recording is Andrea Martin as the Old Lady. HILARIOUS! She isn't much of a singer and I love it.

They've changed a few too many lyrics in this version, but overall, this has earned a spot as one of my favorites.
Just a slight correction...
Eric Stern is the musical director. CANDIDE is sung by the fine Jason Danieley (Marin Mazzie's husband). Most of the tracks list Stern as the "artist", but I know Danieley's voice quite well.

Otherwise, I concur with puppetmaker's praise of the album.