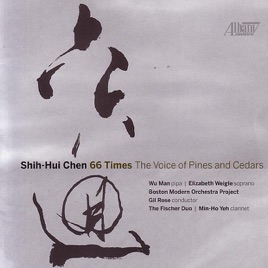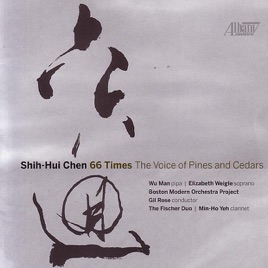 TITLE
TIME

66 Times - The Voice of Pines and Cedars: I. -

Boston Modern Orchestra Project & Gil Rose

66 Times - The Voice of Pines and Cedars: II. -

Boston Modern Orchestra Project & Gil Rose

66 Times - The Voice of Pines and Cedars: III. -

Boston Modern Orchestra Project & Gil Rose

66 Times - The Voice of Pines and Cedars: IV. -

Boston Modern Orchestra Project & Gil Rose

Boston Modern Orchestra Project & Gil Rose

Gil Rose & The Fischer Duo

Gil Rose & The Fischer Duo

Gil Rose & The Fischer Duo
10 Songs, 55 Minutes
Released:

Jul 1, 2006

℗ 2006 Albany Records
About Boston Modern Orchestra Project, Gil Rose & The Fischer Duo
The Boston Modern Orchestra Project (BMOP) is one of the few major ensembles devoted to the performance and advancement of new music. The group performs about eight concert programs a year, mostly at its home venue, Jordan Hall, located at the New England Conservatory of Music in Boston. The BMOP also occasionally concertizes in New York City, at Tanglewood, and other locales in the U.S. Though it is a stated goal to perform and promote new compositions, including many commissioned pieces, the BMOP also takes up rediscovered works of the twentieth century. Thus, concertgoers and record buyers won't be hearing them perform Mozart and Beethoven, but they may well hear a rarely encountered piece by Schoenberg or Webern. Their repertory typically features works by composers such as Arthur Berger, Lukas Foss, John Harbison, Tod Machover, Gunther Schuller, and lesser-knowns like Shih-Hui Chen, Michael Gandolfi, Lee Hyla, Tamar Diesendruck, Reza Vali, and scores of others. To limit an ensemble's repertory to such fare might seem risky, but few can challenge the BMOP's success: it has won 10 ASCAP awards for Adventurous Programming of Orchestral Music! Moreover, though the ensemble has been in existence since only 1996, it has made more than 30 recordings for a variety of labels, including Naxos, Chandos, BMOP/Sound, Albany, Arsis, Oxingale, and others.

The BMOP was founded in 1996 by Gil Rose, who serves as the group's artistic director and conductor. From the beginning Rose was able to attract both talented musicians to perform in the group, as well as gifted, often well-known composers to write new works for them. Through the first decade of the new century, in fact, the BMOP has commissioned and performed more than 30 works and given over 70 premieres. In addition, since 2000 the BMOP has named a composer-in-residence for each concert season. For all its early success, the BMOP did not make its first recordings until the new century, when Naxos released a CD of Rochberg works in 2002, and Chandos issued the Lukas Foss opera Griffelkin the following year.

In 2008 the BMOP launched its own label, BMOP/Sound, with a highly acclaimed CD of John Harbison's ballet Ulysses. There followed numerous other new recordings on the label, and by mid-2009 there were about a dozen CDs in the BMOP/Sound catalog, among them Charles Fussell's Symphony for Baritone and Orchestra ("Wilde"), which received a Grammy nomination.
ORIGIN

Boston, MA

GENRE

FORMED

1996