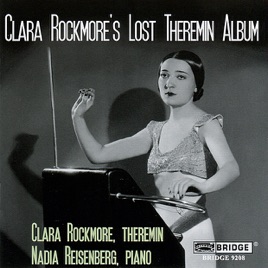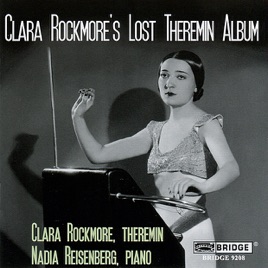 TITLE
TIME

Nocturne in C-Sharp Minor

By Frédéric Chopin

Bachianas Brasileiras No. 5: Aria

By Heitor Villa-Lobos

By Manuel Ponce - Clara Rockmore, Nadia Reisenberg & Jorge Morel
16 Songs, 1 Hour
Released:

Dec 1, 2006

℗ 2011 Bridge Records, Inc.
About Clara Rockmore
The hypnotic, undulating cadence of the Theremin has graced the soundtrack of a number of horror film soundtracks -- and at least one classic rock & roll tune, the Beach Boys' "Good Vibrations"). But the instrument has not inspired a large contingent of full-time adherents; it has mostly been used as a means of generating sound effects. The instrument's Russian inventor, Leon Theremin, envisioned his creation as a serious musical instrument, however. The Theremin's preeminent virtuoso is by most accounts the first, a contemporary of Theremin himself named Clara Rockmore. She developed a formidable technique on the inherently microtonal instrument; in her hands, the Theremin was capable of playing almost in equal temperament. Born Clara Reisenberg, Rockmore was a child prodigy on the violin, and was accepted to the Imperial Conservatory of Music in St. Petersburg, Russia at the age of four. She moved to the United States while still a child, settling in New York City; from 1925 to 1928 she studied with the celebrated Hungarian violinist Leopold Auer. Muscular and joint problems threatened her career as a violinist, but fortunately, she made the acquaintance of Theremin in New York, and worked with him between 1932 and 1934. From that point, the Theremin, which is played without direct physical contact, became her primary instrument. Rockmore gave a legendary public performance on the Theremin at New York's Town Hall on October 27, 1938, at which she played, among other works, a transcription of Franck's Violin Sonata. She went on to a distinguished career as an orchestral soloist and recitalist. Rockmore made what is arguably her most historically significant recording in 1977, The Art of the Theremin, on which she performed transcriptions of compositions by Ravel, Stravinsky, and Rachmaninov, to name just a few. A trend toward the revival of early electronic instruments in the '80s caused the spotlight to fall on her anew; electronic music pioneer Robert Moog helped to bring about the filming of a television documentary about Rockmore, The Art of the Theremin, which aired on the CBS network. She was also featured in the 1994 film, Theremin: An Electronic Odyssey. ~ Chris Kelsey
HOMETOWN

Vilnius, Lithuania

GENRE

BORN

March 9, 1911
Millions of songs.
Zero ads.
New subscribers only. Plan automatically renews after trial.