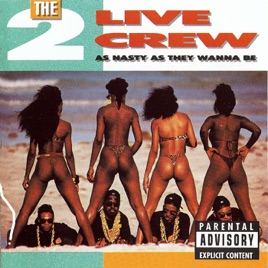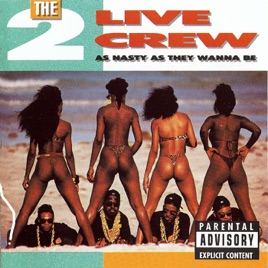 As Nasty As They Wanna Be
| | TITLE | TIME |
| --- | --- | --- |
| | Me So Horny (Luke's Side) | 4:36 |
| | Put Her in the Buck (Luke's Side) | 3:57 |
| | D.K. Almighty (Luke's Side) | 4:52 |
| | | 4:43 |
| | Dirty Nursery Rhymes (Luke's Side) | 3:07 |
| | Break It On Down (Mr. Mixx's Side) | 3:58 |
| | 2 Live Blues (Mr. Mixx's Side) | 5:14 |
| | I Ain't Bullsh...in' (Mr. Mixx's Side) | 4:26 |
| | Get Loose Now (Mr. Mixx's Side) | 4:36 |
| | The F..k Shop (Brother Marquis' Side) | 3:25 |
| | If You Believe in Having Sex (Brother Marquis' Side) | 3:51 |
| | My Seven Bizzos (Brother Marquis' Side) | 4:18 |
| | Get the F..k out of My House (Brother Marquis' Side) | 4:37 |
| | Reggae Joint (Brother Marquis' Side) | 4:14 |
| | Fraternity Record (Fresh Kid Ice's Side) | 4:47 |
| | Bad A.. B...h (Fresh Kid Ice's Side) | 4:04 |
| | Mega Mixx III (Fresh Kid Ice's Side) | 5:45 |
| | Coolin' (Fresh Kid Ice's Side) | 5:02 |
18 Songs, 1 Hour, 19 Minutes

℗ 1989 Lil' Joe Records, Inc.
Ratings and Reviews
sweetness
me so horny is my favorite song so i like the whole cd
Truly Trailblazing
This album remains an important part of music culture. When it came out, no one pushed the envelope of what was acceptable to say in a song like this record did. I remember the controversy surrounding 2 Live's music and act being so outrageous, the entire country knew the lyrics of "Me So Horny." I truly believe this record paved the way for the music we hear today. The music is o.k. The record's true greatness is in the trail it blazed for the next generation of rappers. Don't get me wrong, this record is still truly "NASTY." It's just funny that its place in history and its effect on the music industry have almost raised it to a revered status.
This album rules the world in the late 80s early 90s
This album was the best at everything my parents hated at the time. The internet wasn't around so albums with bed lyrics and parental guidince stickers were all over theses guys unlike any others before or after them for that matter. This is the hieght of all 2 live crew albums.
About The 2 Live Crew
No rap group (save, perhaps, N.W.A) has stirred more controversy or provoked more heated debate than the 2 Live Crew. The furor over the graphic sexual content of their X-rated party rhymes -- specifically their 1989 album As Nasty as They Wanna Be -- was a major catalyst in making rap music a flash point for controversy and an easily visible target for self-appointed moral guardians. The fierce attacks on the group's First Amendment rights put many of their defenders in an awkward position -- passionately supporting their freedom of speech on the one hand, but often finding little artistic merit in their music. And they were indeed crude and coarse, and frequently misogynistic by most standards; even if they fit squarely into a tradition of raunchy, sexually explicit black comedy (Redd Foxx, Rudy Ray Moore, Blowfly, etc.), many critics and intellectuals found their view of sex repellently juvenile, even ugly (and if they found it funny, it was hard to say so publicly). Despite (or, more likely, because of) that fact, the 2 Live Crew were fairly popular even before all the uproar and benefited greatly at first from all the publicity, although later on the novelty perhaps wore off due to overexposure. Regardless of whether one enjoys their sense of humor, to focus only on the controversy ignores the 2 Live Crew's musical contributions. They were responsible for popularizing the booming, hard-driving sound of Miami bass music, and they were the founding fathers of a populist, dance-oriented rap subgenre that relied on simple, explicit chants and up-tempo rump-shaking grooves, appropriately dubbed "booty rap."

Despite their inextricable link to Miami, the 2 Live Crew actually started out in California, with a membership of Fresh Kid Ice (born Chris Wong Won in Trinidad), DJ Mr. Mixx (born David Hobbs), and Amazing V. The trio released their debut single, "Revelation," in 1985 and its popularity in Florida led the group -- sans Amazing V -- to move to Miami, and after second single "What I Like," they were joined by Brother Marquis (born Mark Ross). They scored a record deal with local impresario Luke Skyywalker (born Luther Campbell in Miami), who initially served as their manager, and then joined the group as a performer and bandleader. With Campbell came a big part of the group's on-record taste for sleaze, and accordingly their 1986 debut album, The 2 Live Crew Is What We Are, featured songs like "We Want Some Pussy" and "Throw the D" (as in dick). It became a word-of-mouth success, eventually going gold. Even at this early stage, obscenity was an issue; in 1987, a Florida record store clerk was acquitted of felony charges after selling the album to a 14-year-old girl. Campbell hit upon the idea of selling "clean" and "dirty" versions of the group's albums so that younger fans would have a less explicit alternative. 1987's Move Somethin' was the first album released in this format, and it became an even bigger underground hit than its predecessor thanks to notorious cuts like "One and One," an X-rated retelling of the Kinks' "All Day and All of the Night" (which established the Crew's penchant for blatantly copped samples). In 1988, a record store in Alabama was fined for selling a copy of Move Somethin' to an undercover cop (a conviction later overturned on appeal), setting the stage for the Crew's home state to declare war.

As Nasty as They Wanna Be was released in 1989 and became the group's biggest hit yet; the single "Me So Horny" even climbed into the Top 40 despite virtually nonexistent airplay. Word spread even farther about the group's unadulterated raunchiness, attracting the attention of the ultraconservative watchdog group the American Family Association, who weren't satisfied with the album's parental advisory warning sticker. AFA supporter Jack Thompson, a lawyer and religious activist, convinced Florida governor Bob Martinez to open an inquiry into whether As Nasty as They Wanna Be violated Florida obscenity laws. The state prosecutor determined that action had to be taken on the local, not state, level, and thus in early 1990 Broward County sheriff Nick Navarro obtained a copy of the album and secured a ruling from County Circuit Court Judge Mel Grossman that there was probable cause that the album was legally obscene. Navarro warned record stores around the county that selling the album might subject them to prosecution, and the 2 Live Crew filed suit alleging that Navarro had unconstitutionally overstepped his bounds. In June, District Court Judge Jose Gonzalez ruled that As Nasty as They Wanna Be was legally obscene, and therefore illegal to sell. Record retailer Charles Freeman was arrested two days later for selling the album to an undercover cop, and the three rapping members of the 2 Live Crew were arrested on obscenity charges for performing material from the record in a local club. They were acquitted a few months afterward, thanks in part to expert testimony from Duke professor Henry Louis Gates, and Freeman's conviction was later overturned on appeal.

Meanwhile, As Nasty as They Wanna Be had become the forbidden fruit of choice for teenage boys across the country, selling over two million copies. Several other incidents were reported around the country involving record store owners being arrested for selling the album. The publicity also attracted the attention of George Lucas, who successfully sued Campbell for trademark infringement over his stage and label name, Luke Skyywalker; he subsequently shortened both to Luke. Capitalizing on the media frenzy, Campbell struck a distribution deal with Atlantic and put together a semipolitical album called Banned in the U.S.A., after securing rights for the title track from Bruce Springsteen; it was billed to Luke Featuring 2 Live Crew. It sold like hotcakes on first release, and the title single became the group's second Top 40 hit. In 1991, the group released the first full-length live rap album ever, Live in Concert, as well as the official follow-up to As Nasty as They Wanna Be, Sports Weekend. They sold disappointingly, especially considering the group's recent notoriety, and proved to be the last albums they would record together as a quartet. To compound matters, Luke Records was successfully sued for 1,600,000 million dollars in royalties by MC Shy D.

In 1992, the Court of Appeals in Atlanta overturned Jose Gonzalez's ruling that As Nasty as They Wanna Be was legally obscene. At issue was Gonzalez's refusal to heed expert testimony (he'd pronounced himself fit to judge community standards of decency, since he'd lived in the community for 30 years), as well as the fact that the burden of proof of obscenity should have rested with Sheriff Navarro, who submitted nothing besides a copy of the album as evidence. The appeals court's decision was later upheld by the Supreme Court. Meanwhile, the 2 Live Crew were drifting apart. Luke and Fresh Kid Ice both released solo albums (I Got Shit on My Mind and The Chinaman, respectively), and original Crew members Ice and Mr. Mixx teamed up as the Rock on Crew for Deal With This. Luke continued his solo career over the rest of the '90s.

In 1994, Luke, Fresh Kid Ice, and new rapper Verb (born Larry Dobson) regrouped as the New 2 Live Crew, issuing the album Back at Your Ass for the Nine-4. The same year, the group found itself back in court yet again, this time over a lawsuit by the publishers of Roy Orbison's "Oh, Pretty Woman." They charged 2 Live Crew with plagiarism for recording a parody of the song on As Clean as They Wanna Be, alleging that the reinterpretation tarnished the image of the original. The case went all the way to the Supreme Court, which ruled that parody constituted fair use and found in favor of the group. The New 2 Live Crew didn't last long as Luke chose to concentrate on his solo career. In 1995, Luke Records filed for bankruptcy, as Campbell was beset by creditors and expenses; both he and the remaining 2 Live Crew wound up on Lil' Joe, a label founded by his ex-business partner Joe Weinberger. In 1996, Fresh Kid Ice, Brother Marquis, and Mr. Mixx re-formed the 2 Live Crew without Campbell and released Shake a Lil' Somethin'. Brother Marquis departed afterward, and down to the two original California members, the 2 Live Crew issued The Real One in 1998. Luke, meanwhile, continued to record steadily, as well as releasing several compilation albums showcasing new South Florida talent. ~ Steve Huey
ORIGIN

California

GENRE

FORMED

1985