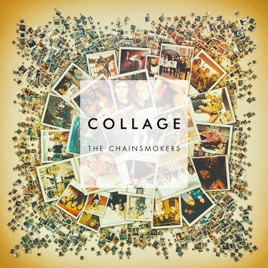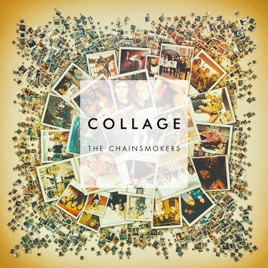 | | TITLE | TIME | PRICE |
| --- | --- | --- | --- |
| | Setting Fires (feat. XYLØ) | 4:07 | $1.29 |
| | All We Know (feat. Phoebe Ryan) | 3:14 | $1.29 |
| | | 4:05 | $1.29 |
| | Inside Out (feat. Charlee) | 3:53 | $1.29 |
| | Don't Let Me Down (feat. Daya) | 3:28 | $1.29 |
5 Songs

℗ 2015, 2016 Disruptor Records/Columbia Records
Customer Reviews
Boooooo.
Had high hopes for this, but the over produced mess of beats and synths sound like something that belongs in 2009. Maybe try something new for a change?
WE NEED A FULL ALBUM!
Do not listen to the "reviews" of the Gaga-obsesed fans who overreacted about someone voicing their opinion (You know they all had "Don't Let Me Down" and "Closer" on their phones and know all the words). The entire EP is AMAZING - each song tells a story and is different. I'm hoping for more music and/or a full length album in the near future!
About The Chainsmokers
A production duo featuring Andrew Taggart and Alex Pall, the Chainsmokers mix indie, dance, and pop into a chart-topping sound that spawned hits like "Roses," "Closer," and "Don't Let Me Down." Pall and Taggart first made a name for themselves by creating remixes of their favorite indie bands that garnered tens of millions of streams. The duo released its official debut single, "#Selfie," which celebrated and skewered 2010s narcissism, in January 2014. The track's bouncy beats and self-obsessed words hit number one on the Billboard dance chart and sold over ten million copies. Meanwhile, "#Selfie"'s video featured cameos by Snoop Dogg and David Hasselhoff, fueling the song's viral popularity to hundreds of millions of views. More singles, including "Kanye" and "Let You Go," followed.

In 2015, they issued the Bouquet EP on Disruptor Records, a softer and more indie-flavored effort that featured the single "Roses," which was certified double-platinum and hit number one on the Top Dance Songs chart. The song also earned the Chainsmokers nominations for the Billboard Music Awards in the Top Dance/Electronic Artist and Top Dance/Electronic Song categories. After playing over 300 shows in 2015, including dates at festivals like Lollapalooza, Firefly, Tomorrowland, and Ultra, the duo returned in 2016 with the platinum-certified "Don't Let Me Down," a collaboration with Pittsburgh pop singer Daya that topped the Billboard dance chart and would later win a Grammy. That year, the Chainsmokers also performed as part of the Tilt Tour, the first ever fan-sourced tour. In addition, Pall and Taggart host two SiriusXM shows: Nice Hair, a monthly mix; and the weekly YouTube EDM 15.

The follow-up single to "Don't Let Me Down" would carry the duo to new heights. Featuring Halsey on vocals, "Closer" began its slow climb to the top of the singles chart in the summer of 2016. Once it hit number one, it remained in the top spot for over ten weeks, breaking the record previously held by Drake's "One Dance." As their chart dominance continued, they released the Collage EP, which joined their two Top Three singles with new collaborations featuring Phoebe Ryan, XYLØ, and Charlee. Their debut record, Memories: Do Not Open, arrived in 2017, preceded by the hit singles "Paris" and the Coldplay duet "Something Just Like This." Memories debuted at the top of the Billboard chart. ~ Heather Phares
ORIGIN

New York, NY

FORMED

2012
Top Songs by The Chainsmokers
See All
Top Albums by The Chainsmokers
See All
Top Music Videos by The Chainsmokers
See All