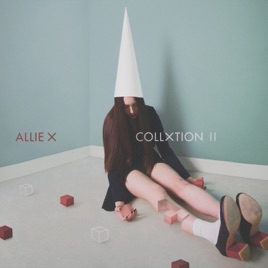 | | TITLE | TIME | PRICE |
| --- | --- | --- | --- |
| | | 3:17 | $1.29 |
| | | 3:39 | $1.29 |
| | Need You (feat. Valley Girl) | 3:23 | $1.29 |
| | | 3:45 | $1.29 |
| | | 3:14 | $1.29 |
| | | 3:35 | $1.29 |
| | | 3:41 | $1.29 |
| | | 3:35 | $1.29 |
| | | 3:57 | $1.29 |
| | | 3:32 | $1.29 |
10 Songs

℗ 2017 Twin Music Inc
Customer Reviews
Something Special...
I'm changing my four stars to five stars, and this album is truly deserving of it. Each song is crafted in such a way that makes you enter her world, if you're willing to be swept in. And you definitely should. This girl is doing everything right.

There's not a single song that I could point out and say is weak or lacking. This album is up to par with every expectation I had, collxtion I was stellar, and this, might even be better. Both are worth your every second.

Buy and listen to this album. Your ears will commend you for your impeccable taste in amazing synth-pop.

Xtrodinary album.
Fantastic album from an underrated Pop Queen!
Allie X is serving her first full length album and follow-up to the pop perfection of CollXtion I. Rather than serve us more of the same bops, this album is a growth with new sounds and exploring new themes. And there are still bops. Give this album a spin and you'll see what I mean.
About Allie X
Drawing comparisons to Chvrches, Ellie Goulding, and pre-Silent Shout Knife with her airy yet edgy electropop, singer/songwriter Allie X made her debut in early 2014 with a pair of attention-getting singles, "Catch" and "Prime." Born Allie Hughes, she studied classical piano and voice at the Interlochen Arts Academy and graduated from Sheridan College's Musical Theater Performance program. She began making music in her hometown of Toronto in the mid-2000s, playing with local bands and writing and recording a handful of self-released albums. In July of 2013 she moved to Los Angeles with the intention of becoming a full-time songwriter after signing a publishing deal. However, she continued to work on her own material, by herself and with Billboard and Cirkut, a pair of producers affiliated with hitmaker Dr. Luke. In February 2014 she released her debut single, "Catch" (which cleverly compared heartbreak to illness), online to praise from sources as varied as Time Magazine and Katy Perry. A month later, the brassy, brittle "Prime" arrived. In April 2015 she released CollXtion I, a set of seven songs supplemented by visuals and a comic. She also worked with Troye Sivan on his Blue Neighbourhood album that year, and toured with him in 2016. Allie X issued the singles "Casanova" and "That's So Us" ahead of her sophomore album, CollXtion II, which arrived in June 2017. ~ Heather Phares