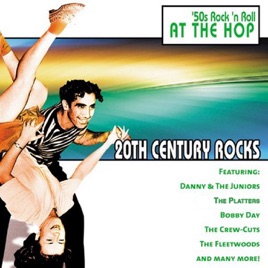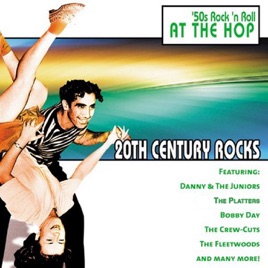 20th Century Rocks: 50's Rock 'n Roll - At the Hop (Re-Recorded Versions)
Various Artists
TITLE
TIME

Ain't That a Shame (Re-Recorded)

Pat Boone

2:17

The Del-Vikings

2:34

Only You (And You Alone) [Re-Recorded]

The Platters

2:34

Singing the Blues (Re-Recorded)

Guy Mitchell

2:24

The Purple People Eater (Re-Recorded)

Sheb Wooley

2:13

The Diamonds

2:37

Come Softly to Me (Re-Recorded)

The Fleetwoods

2:26

Just a Dream (Re-Recorded)

Jimmy Clanton

2:23

The Chantels

2:31

Danny & The Juniors

2:36

Rockin' Robin (Re-Recorded)

Bobby Day

2:30

My Special Angel (Re-Recorded)

Bobby Helms

2:53

Long Tall Sally (Re-Recorded)

Little Richard

2:02

Art & Dotty Todd

2:52

The Mystics

2:32

Along Came Jones (Re-Recorded)

The Coasters

2:44

Sorry (I Ran All the Way Home) [Re-Recorded]

The Impalas

2:27

The Crew-Cuts

2:49

The Bobbettes

2:15

Sandy Nelson

2:22
20 Songs, 50 Minutes

℗ 2001 K-tel
Customer Reviews
20th century Rocks- 50's rock and Roll
Please. These are all phony remakes and they sound tacky. Where are the "Originals" I am spending $$$$DOLLARS here. I want my moneys worth. I look for original songs and only find somebody else sings them. THIS IS A BIG WASTE OF MY HARD EARNED DOLLARS$$$$.

Itunes! you better start adding the Real Thing here.. I look for Jimmy Clanton songs. Go Jimmy Go ( Bob Marley sings it), Letter to an Angel (not even there), and Just A Dream sounds like he swallowed peanut butter. I got burned with a few songs. After you download them they turn out to be lousy.
a fraud
Itunes should drop everything that KTel sells and stick to reputable companies like Shout, Rhino, etc. These remakes are a disgrace! It's weird when you hear string synthesizers and electronic drums on songs that were supposedly recorded in the 50s. ITunes should at least warn people that the songs are rerecords.
DO NOT BUY
it sounds like the only original recording is Ain't That A Shame, and it's not even the Fats Domino version!