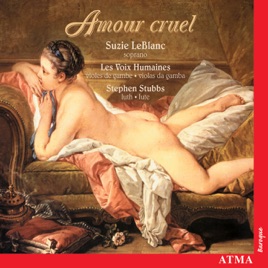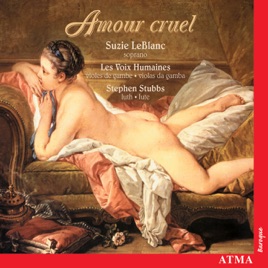 Lambert - Camus: Songs - Sainte-Colombe, M. De: Music for 2 Equal Viols
TITLE
TIME
3:43

Concert No. 58 for 2 Equal Viols, "Les Roulades"

Les Voix Humaines

4:20

Stephen Stubbs, Les Voix Humaines & Suzie LeBlanc

3:43

Stephen Stubbs & Suzie LeBlanc

5:46

Concert No. 6 for 2 Equal Viols, "La Duchesse"

Les Voix Humaines

5:53

Les Voix Humaines & Suzie LeBlanc

3:33

Concert No. 9 for 2 Equal Viols, "Le Suppliant"

Les Voix Humaines

6:19

Stephen Stubbs & Suzie LeBlanc

2:35

Concert No. 48 for 2 Equal Viols, "Le Rapporte": Chaconne Du Concert No. 48 for 2 Equal Viols, "Le Rapporte"

Les Voix Humaines

6:20

Stephen Stubbs, Suzie LeBlanc & Les Voix Humaines

6:06

Concert No. 32 for 2 Equal Viols, "L'esleve Change"

Les Voix Humaines

4:03

Stephen Stubbs & Suzie LeBlanc

3:37

Concert No. 3 for 2 Equal Viols, "Le Tendre"

Les Voix Humaines

6:53
13 Songs

℗ 2001 ATMA Classique
About Les Voix Humaines
Les Voix Humaines is a popular instrumental duo of viola da gamba players who specialize in Baroque music, especially works by French Baroque composers. The name "Les Voix Humaines" is taken from a viola da gamba piece by French composer Marin Marais, whose works figure prominently in the repertory of the duo. Although the pair give concerts in which they are the only performers, they also regularly perform with guest artists, like countertenor Daniel Taylor, soprano Suzie LeBlanc, theorbo player Sylvain Bergeron, harpist Maxine Eilander, and lutenist Mike Fentross, as well as other gambists such as Mélisande Corriveau and Jay Bernfeld. While the repertory of Les Voix Humaines focuses greatly on Baroque instrumental music, the duo have performed and recorded much vocal music, particularly with the two singers mentioned above. Those efforts involve a range of repertory that includes works by J.S. Bach, Dowland, Purcell, and many others. The duo have made more than 30 recordings, the bulk of which have appeared the Atma Classique label. They have also recorded for CBC Records, Naxos, Alpha Productions, and Arts Music.

Les Voix Humaines began performing in 1985, establishing their base of operations in Montreal. The players are Susie Napper, who plays a 1703 six-string viola da gamba, and Margaret Little, who plays a seven-string viol, built in 1982 as a copy of a late seventeenth century Colichon viola da gamba.

Over the years the two players have also remained busy performing in other ensembles, Napper in Le Studio de Musique Ancienne de Montréal and Les Boréades de Montréal, and Little in Rebel, Four Nations, and Trinity Consort. Both are teachers, as well, Napper serving on the faculty at McGill University and Little at the University of Montreal. Les Voix Humaines grew to prominence rather quickly, performing regularly throughout Canada and then abroad, with tours in the U.S., Europe, Australia, and Israel. A spate of recordings in the 1990s helped popularize them. Their first Naxos recording, a 1996 collection of viol works by Marais, led to a pair of highly successful double-disc Naxos sets: the first, songs by Hume, and the next, instrumental works by Schenck.

In the new century Les Voix Humaines issued recordings on the Alpha Productions and Arts Music labels. Among their recordings is a 2007 double-CD set, the final volume (No. 4) of the complete Sainte-Colombe collection of (67) Concerts for Viol on Atma Classique.
ORIGIN

Montreal, Quebec, Canada

FORMED

1985