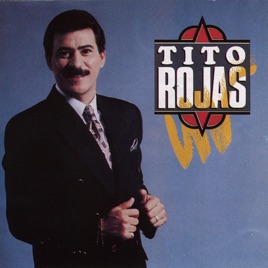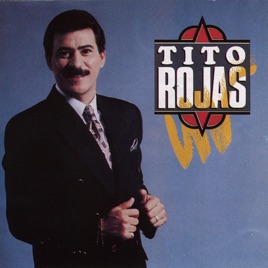 8 Songs, 41 Minutes
Released:

Jan 6, 1992

℗ 1992 Musical Productions
Ratings and Reviews
Tito Rojas is and well ALWAYZ BE # 1 IN SALSA!!
I DON'T UNDERSTAND WHY ITUNES DOESN'T HAVE ANY OF HIS MUSIC VIDEOS??? IT'S A SHAME BECAUSE LIKE I SAID BEFORE HE IS THE BEST SALSERO OUT THERE... ALL HIS MUSIC COMES STRAIGHT FROM THE HEART!! HE IS VERY ROMANTIC!!!I HAVE ALL OF HE'S CD!!!

HE HAS SO MANY SONG THAT ARE GREATEST HITS AND 4 YEARS 2 COME, HIS MUSIC WILL NEVER DIE JUST, LIKE FRANKIE RUIZ ANOTHER SALSERO WITH TALENT RIP FRANKIE ..... ITUNES SHOULD REALLY CONSIDER GETTIN HIS MUSIC VIDEOS!! THERE GREAT!! A TI VOLVER, CONDENAME A TU AMOR, AMOR DEL BUENO, SENORA, He Chocado Con La Vida, Ayer Me Dijeron, AMIGO, QUIERO LLENAR TU VIDA, PORQUE ESTE AMOR, ARE JUST 2 NAME A FEW OF JIS HITS... I REALLY HOPE ITUNES GET HIS VIDEOS.. I BE ONE 2 GET ALL OF HIS VIDEOS!!!! HIS THE BEST ................................. ITUNES PLEASE GET TITO ROJAS VIDEOS PLEASE PLEASE PLEASE AND FRANKIE RUIZ PLEASE PLEASE PLEASE PLEASE!!!!!
genial
esa voz tan distinguida de el es lo que le da el sazon a su musica, ese suave susurro es lo que te atrapa en las liricas, ninguno como el, love you tito
Otro de los mejores discos de Tito
It's not Itunes fault it's the record company's that have left salsa music in the dark and replaced the music for reggaeton. Reggaeton is good but It's not the only music. There is alot of history and culture in salsa music. And thanks to Itunes I've been able to find alot of hard to find music.

back to Tito's review this is another must have for collector's
About Tito Rojas
Tito Rojas was born in Humacao, Puerto Rico, on June 14, 1955. In the 1970s, Rojas started singing as a member of Pedro Conga's Orquestra. Later, after being Borincuba's vocalist, the artist decided to go on his own, starting a solo career. By that time, Tito Rojas reached the charts with his song "El Campesino." In 1987, Rojas joined Luis Ayala's Orchestra, coming back as a soloist in 1991 with the release of Sensual, followed by 1992's Condename and 1994's A Mi Estilo. 1995 was the year Tito Rojas consolidated his career, reaching double platinum after releasing Por Derecho Propio and being awarded as Puerto Rico's Best Salsa Artist. Rojas was also distinguished by the New York's journalist association ACE. ~ Drago Bonacich