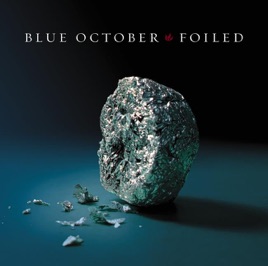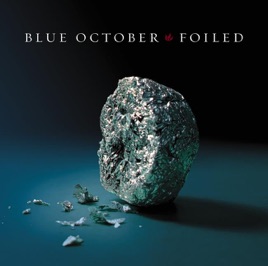 | | TITLE | | TIME |
| --- | --- | --- | --- |
| | | | |
| | | | |
| | | | |
| | | | |
| | | | |
| | | | |
| | | | |
| | Overweight (Clean Version) | | |
| | | | |
| | Drilled a Wire Through My Cheek | | |
| | Sound of Pulling Heaven Down | | |
| | | | |
| | | | |
| 14 | | | |
14 Songs, 1 Hour 2 Minutes
Released:

May 23, 2006

℗ 2006 Universal Records a division of UMG Recordings Inc.
Ratings and Reviews
One of the greatest albums out there today.
Im going to start out by saying that blue october is a great band. I have been one of their fans since History For Sale. Foiled gives a new feel to Blue October. From love songs (Congratulations, you make me smile, sound of pulling heaven down) to Angest songs (x-amount of words, Drilled a wire through my cheek)

1. You make me smile: (4/5) Wonderful song to start out the CD, i don't think there could be a better way to do it.

2. She's my Ride Home: (4.5/5) Kind of creepy song when you really think about it. Talks about Justin and girlfriend....killing?(we'll hide the bodies on the ride home) (and so i, set fire to everyone abround you) Still an awsome song.

3. Into the ocean (4.9/5) SOOO close to being perfect. Im guessing the songs about drowning, but thinking about your loved ones, and decideing to give up or not.

4. What If We Could: (4/5) A song about making sure the person you love really loves you. Not one of my favorites.

5. Hate Me (4.5/5) The song that got all the teenies that love FOB go "OMGIEEE I LOVE BLUE OCTOBER OMG!!!!!!!" A song about Justins mother, and how much of a relationship he had with her. A sad song that changed the perspecitive of my life.

6. Let It Go (4/5) A slow, sad song. Something i haven't seen from Blue october.

7. Congratulations (5/5) wow....wow...thats all i can say.....This song took me, shook me up and down, and set me back down onto Earth....Its amazing..Awsome duet...

8. Overweight (3/5) ummm....very weird....not what i know from Blue October...and i dont like it. Its an OK song.

9 X-Amount of Words (4/5) I don't even know WHAT this song is about. Its a great tecno beat, followed by guitar.

10. Drilled A wire through my cheek (5/5) Awsome song!!! The most Angest song from blue october...ever!

11. Sound of pulling heaven down (4.5/5) Great transition from Angest, to a nice, slow song. Couldn't have done any better.

12. Everlasting friend (4.5/5) Again, a slow, sad song. This song had ALOT of meaning to me.

13. 18th floor balcony (4.5/5) A REALLY slow song. Its a very sad song..

BONUS TRACK: It's just me (4/5) A great song to end the CD. Talking about how it was his fault he was bad to his Girlfriend.

Overal (1000000/5) DON'T BUY ON iTUNES. THEY HAVE NO HIDDEN TRACK!!! After listening to this CD 35 times in 3 days (long car ride) I love the CD. Everybody should learn about Blue October
i love the song hate me!!
blue october is awesome! but i bought the clean version and it had the F word in it
Great Followup
Considering how astounding Blue October's previous album "History for Sale" was, I came to this album with little bit of hesitancy. That's a REALLY hard act to follow up. However, I was quite happy to find that my fears were not a reality.

By comparison to previous albums, this one certainly shows the most growth, both lyrically and musically. Justin's lyrics, seem to still echo the same subject matter of previous albums, though it is certainly not stagnant. Musically, it's apparent that new methods are being implemented. For instance, in 'X Amount of Words,' we find the closest thing to a techno song that the band has ever written. This coming from a band that sounded more folk than anything on their first album, one has to give kudos for not only the solid execution, but also the sheer guts to try something so supposedly out of their element.

Like all Blue October albums, do not judge by your first listen. Give it some time to soak in, read the lyrics, think about what you are hearing. This album can be amazing if you let it.