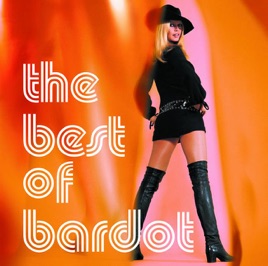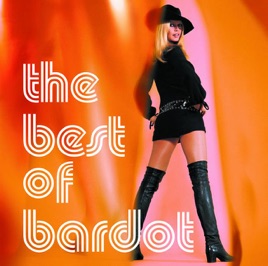 | | TITLE | | TIME |
| --- | --- | --- | --- |
| | | | |
| | | | |
| | | | |
| | | | |
| | | | |
| | | | |
| | | | |
| | Brigitte Bardot & Serge Gainsbourg | | |
| | | | |
| | Brigitte Bardot & Serge Gainsbourg | | |
| | | | |
| | | | |
| | | | |
| | Je reviendrai toujours vers toi | | |
| | | | |
| | | | |
| | | | |
| | | | |
| | | | |
| | | | |
20 Songs, 48 Minutes
Released:

Jan 1, 2004

℗ 2004 Mercury Music Group
Ratings and Reviews
THIS SONG IS SO HOT! BONNIE AND CLYDE
I heard the song in rush hour 3 ... incredible sound.. i had to find it! finally i found out what the name is..... =]
Fun, flirty and fantastic
Brigitte Bardot is now one of my all time favorite musicians, her music is so much fun to listen and dance to. If you are a happy person don't let this gem pass you by.
I can garantee you that if you like Serge Gainbourg's music, you'll love Brigitte Barot.
Awesome 60's french pop!
Catchy
My introduction to the music of Brigitte Bardot was from a type of 1960s quasi-music-video format called the Scopitone. (This is an obsolete system which used color sound film run on a jukebox-style machine.) Considering when it was made, "Contact" was WAY ahead of its time, featuring 1980s dress and ultra modern hyper-spinning shimmering mobile sculptures. Regardless of the imagery of the Scopitones, it is great to listen to these stereo originals.
About Brigitte Bardot
The archetypal sex kitten, Brigitte Bardot was the first foreign-language star ever to attain a level of international success comparable to America's most popular homegrown talents. While the vast majority of her motion pictures failed to rank even remotely close to the best of her native France's prodigious New Wave-era output, they proved a major breakthrough in establishing a market for foreign films in English-speaking countries; indeed, for all of the acclaim deservedly heaped on the more gifted actors and directors of her day, perhaps no other factor was more crucial to the far-reaching success of world cinema than Bardot's sultry allure. Born September 28, 1934 in Paris, she was the daughter of a wealthy industrialist; while studying ballet, she was approached with the offer to begin modeling, and by 1950 her image had already graced the cover of Elle magazine. There she was spotted by director Marc Allegret, who had earlier discovered the young Simone Simon. Soon Allegret's assistant, Roger Vadim, contacted Bardot for a role in the picture Les Lauriers Sont Coupes; while Allegret did not cast the young model in his film, Vadim became immediately smitten by her pouty sensuality, and in 1952 he became her husband. That same year, Bardot made her film debut in Jean Boyer's comedy Le Trou Normand; a series of bit roles followed before she appeared in Warner Bros.' 1955 production of Jean of Arc. The studio was sufficiently impressed to offer a seven-year contract, but she refused to accept her largest role to date opposite Jean Marais and Isabelle Pia in Futures Vedettes.

After traveling to Britain to appear in 1955's Doctor at Sea, Bardot returned to France to begin work on her first starring role in 1956's La Lumiere d'en Face; the film's producer, Christine Gouze-Renal, subsequently became her mentor and handled her career for a number of years. While still largely an unknown, Bardot soon enjoyed a string of hits, including Cette Sacree Gamine, Mi Figlio Nerone, and En Effeuillant la Marguerite, which positioned her as France's top sex symbol by 1957. As Bardot's popularity continued to soar, producer Raoul J. Levy offered Vadim the opportunity to direct his wife in Et Dieu Crea la Femme, an erotic melodrama co-starring Jean-Louis Trintignant. The film made Bardot an international star, earning over four million dollars in the U.S. alone; as rumors swirled about a possible affair between her and Trintignant, her marriage to Vadim began to crumble, although their respective careers remained intertwined for years to come.

Bardot's popularity with American audiences was unprecedented for a non-English speaking actress, and after Levy cut a reported $225,000 three-picture deal with Columbia for her services, she next starred in the sex romp Une Parisienne, followed by Vadim's Les Bijoutiers du Clair de Lune. After much deliberation, plans were finally announced for Bardot's English-language debut Paris by Night, to be helmed by Vadim and starring Frank Sinatra; the project fell through, however, and she next appeared in 1960's Babette s'en va-t-en Guerre opposite Jacques Charrier, who briefly became her second husband. While filming Henri-Georges Clouzot's La Verite later that year, Bardot attempted suicide on her 26th birthday; after production resumed, the completed film rose to become France's top moneymaker for the year, but it marked the end of her Columbia deal, and in light of her cooling popularity in the States and in Britain, no other deals were immediately forthcoming.

In 1960, Bardot released a pop music album, Behind Brigitte Bardot; several other LPs, including 1963's Brigitte Bardot Sings and 1968's Special Bardot, were to follow, and she scored a number of hit singles in tandem with the infamous singer/songwriter Serge Gainsbourg. After she fired the original director on the 1961 comedy La Bride Sur le Cou, Vadim stepped in to complete the picture; she next starred with Marcello Mastroianni in Louis Malle's La Vie Privée, delivering a clearly autobiographical turn as a young celebrity unable to cope with the pressures of stardom. The picture was intended as Bardot's swan song, but she was quickly coerced out of retirement to star in Jean-Luc Godard's brilliant Le Mépris; while today recognized as a classic, at the time of its release the movie was the subject of very mixed reviews, with considerable editing required for release outside of France. As a result, it was a commercial disaster, and Bardot's standing as Europe's most popular actress was usurped by Sophia Loren.

After finally making an American film, 1964's family comedy Dear Brigitte, Bardot began work on Mallle's comedy Viva Maria!, which paired her opposite Jeanne Moreau. When it failed to live up to international box-office expectations, few of Bardot's subsequent films were screened outside of France; even within her native land her star continued to dim, and she did not appear in another certified hit prior to 1970's L'Ours et la Poupee. However, when the Vadim-helmed Don Juan 1973 ou Si Don Juan Etait une Femme and 1974's L' Histoire Tres Bonne et Tres Joyeuse de Colinot Trousse Chemise failed, Bardot again announced plans for retirement; this time, apart from a handful of television appearances, she made good on her promise, and consistently refused all offers to return to the screen. In later years she became something of a recluse, but continued to make occasional headlines through her ardent support of animal rights causes. ~ Jason Ankeny
HOMETOWN

Paris, France

GENRE

BORN

September 28, 1934