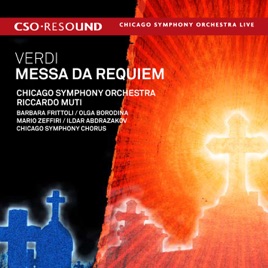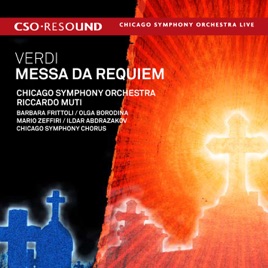 CSO Resound - Verdi: Messa da Requiem
| | TITLE | TIME |
| --- | --- | --- |
| | Messa da Requiem : Requiem: Requiem aeternam | 9:51 |
| | Messa da Requiem : Dies irae: Dies irae, dies illa | 2:26 |
| | Messa da Requiem : Dies irae: Tuba mirum | 1:57 |
| | Messa da Requiem : Dies irae: Mors stupebit | 1:25 |
| | Messa da Requiem : Dies irae: Liber scriptus | 5:07 |
| | Messa da Requiem : Dies irae: Quid sum miser | 3:55 |
| | Messa da Requiem : Dies irae: Rex tremendae | 3:52 |
| | Messa da Requiem : Dies irae: Recordare | 4:19 |
| | Messa da Requiem : Dies irae: Ingemisco | 3:38 |
| | Messa da Requiem : Dies irae: Confutatis | 5:27 |
| | Messa da Requiem : Dies irae: Lacrymosa | 6:27 |
| | Messa da Requiem : Offertorio | 10:47 |
| | Messa da Requiem : Sanctus | 2:36 |
| | Messa da Requiem : Agnus Dei | 5:41 |
| | Messa da Requiem : Lux aeterna | 7:00 |
| | Messa da Requiem : Libera me | 15:03 |
16 Songs, 1 Hour, 29 Minutes

℗ 2010 CSO Resound
Customer Reviews
Not bad
Technically, the piece was executed very well and I have had the opportunity to see Muti lead the CSO live. It is a wonderful combination that, in my opinion, is best characterized as energetic and awe-inspiring. This performance was not representative of what the Muti-CSO combination actually sounds like. This was emotionless, drab, and quite honestly boring. Not worth the $16.
VERDI!!
I heard a CSO/Muti/Verdi Requiem concert, and this recording totally captures my memory of it. The incredibly soft strings and chorus, the explosive brass and percussion, and Muti's loving treatment of every single second are all on display here. Opera lovers will enjoy the vocal soloists, too. Soprano Frittoli + Muti are glorious!!
Not their best
I'm not really a fan of the Chicago Symphony Chorus on a recording. They are much more enjoyable in a live performance. Their diction is not together at the ends of phrases and oh for the love of all things holy, please use a dental [t] in Latin. Perhaps there are just too many singers here to be that precise in diction. Their sound is somewhat darker than my preference. I spent many weeks in grad school singing under their Associate Choral Director and I know her technique to be that of a darker sound. If you prefer that sound to a much brighter one, then this is the recording for you. That darkening of the sound does give character and depth to the rise and fall of the dynamics in this piece. You must have attention to the dynamics in this piece and I believe the chorus has done a stupendous job of this. The soloists are genuinely great performers. The tenor's technique in the upper register has much to be desired. I was not impressed with his Latin diction. Mezzo-soprano Olga Borodina is the highlight of this recording. Her technique is sound, the diction is precise, and most of all the musicality was there to represent the pull between life and death Verdi so distinctly wrote.
About Riccardo Muti
One of today's best-known and most esteemed conductors, Riccardo Muti is known for charismatic, brilliant performances of both concert and operatic repertoire. His father was a physician with a natural vocal talent who supported the young Riccardo's interest in music by giving him his earliest piano and voice lessons. Muti undertook formal musical studies at the Conservatorio di Musica San Pietro a Majella in Naples, where he earned a diploma in piano; among his teachers there was Nino Rota, the well-known composer of film and concert music. Muti's education continued with studies in composition and conduction at the Verdi Conservatory in Milan and a conducting seminar with Franco Ferrara in Venice.

Muti first came to widespread public attention as the winner of the prestigious Guido Cantelli Conducting Prize in 1967; soon after, he made his offical debut, conducting the Italian Radio and Television Orchestra. He quickly became an in-demand guest conductor, and his successes in that capacity led to his first full-time appointment in 1970, as principal conductor of the Maggio Musicale of Florence.

All the while, Muti maintained a busy schedule of high-profile engagements, including notable appearances at the Salzburg Festival (1971) and the with the Berlin Philharmonic (1972). He first appeared in the United States with the Philadelphia Orchestra (1972); with the retirement of Eugene Ormandy in 1980, Muti became that ensemble's music director. It proved to be the most illustrious and fruitful of Muti's professional associations, and extended beyond his resignation in 1990 to a post as laureate conductor and continued guest appearances. Some have observed that Muti's effect on the fabled "Philadelphia sound" was one of increased brightness and incisiveness, while he preserved the ensemble's singular luster.

Before assuming the helm of the Philadelphia Orchestra, Muti continued his journey toward international stardom in posts with the New Philharmonia Orchestra and the Vienna State Opera. During his tenure in Philadelphia, Muti also assumed the music directorship of La Scala, where he enjoyed a number of great successes. He has proven himself particularly versatile in operatic repertoire, excelling in interpretations of Mozart, the Italian Romantics, Wagner, and the masterpieces of the twentieth century. ~ Joseph Stevenson
ORIGIN

Naples, Italy

GENRE

BORN

July 28, 1941