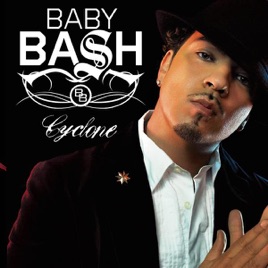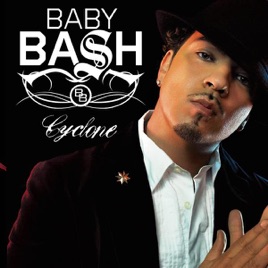 TITLE
TIME

What Is It (feat. Sean Kingston)

Mamacita (feat. Marcos Hernandez)

Baby Bash & Marcos Hernandez

Dip With You (feat. Aundrea Fimbres)

Spreewells Spinnin' (feat. C****o Bling, Lucky & Queenie)

As Days Go By (The Love Letter) [feat. Paula DeAnda]

Thrill Is Gone (feat. Ryan Tedder)

Don't Stop (feat. Keith Sweat)

Mean Mug (feat. Da Stooie Bros., Mistah F.A.B. & Pimp C)

Ronnie Rey All Day...Choppin' It Up (Interview)
14 Songs, 52 Minutes
Released:

Oct 30, 2007

℗ 2007 Arista Records LLC, a unit of SONY BMG MUSIC ENTERTAINMENT
Ratings and Reviews
awesome!!!
i loveeeeeeeeeeeeeeeeeee baby bash!!!!

its a very good album!!!!
its a must have!

get it its great!

4 fo sho
gotta luv baby bash
So Disappointed
Baby Bash's Cyclone is a real disappointment for me. I was expecting a great album like his last one Super Saucy and ended up with this. I do have to give the album 3 stars though for a couple noticable tracks. Cyclone, of course is a club banger, and one of the biggest songs out as of right now, then there is What Is It which features Sean Kingston. Sean Kingston is blowing up the radio and the music scene right now, and this track is another huge club joint. Dip With You is the best track on the album in my opinion. I am a huge Danity Kane fan and for Baby Bash to include Aundrea Fimbres on his album was a great move for him. Her vocals are excellent and the beat is also amazing. Other noteable tracks are NaNa (The Yummy Song), Mamacita, and As Days Go By (The Love Letter) with Paula DeAnda, another wonderful voice to add to the album. I only have one question for Baby Bash, what happened to the suga suga days? And where are your usual guests Natalie & Frankie J? Just Wondering. Buy the few songs, skip the rest.
About Baby Bash
Smooth rapper Baby Bash can't recall where he got the "Bash" moniker but his alternate name, Baby Beesh, comes from the fact he used to drive around in a Mitsubishi. Born in the Vallejo, California area in 1975 to a Latin mother and an Anglo father who both eventually became addicted to heroin, Baby Bash had some uncles who exposed him to various genres of music and a grandmother who raised him. Part of the area's underground Latin rap scene, Baby Bash joined groups like Potna Deuce and Latino Velvet with fellow Latino rappers Kid Frost and Jay Tee. A trip to Houston, Texas, to do a guest spot with the South Park Mexican crew, was an eye-opener. Bash was impressed with Texas' support of local artists and even more impressed that he could sell his house in California and buy two in Texas. Meeting and eventually working with Frankie J. and the Kumbia Kings was a big moment for the rapper, but he was still eyeing basketball as a possible career and selling speed. He was too short for basketball, but things started to blow up on the music side when he hooked up with producer Happy Perez. He dropped his hopes of shooting hoops, quit dealing with drugs (minus his beloved weed), and released Savage Dreams under the Baby Beesh name on the Dope House label in 2001. On Tha Cool followed the next year. Listening to everything from E-40 to Tom Petty to Steel Pulse, Baby Bash expanded his sound and released the funky smooth single "Suga Suga." It was huge in Texas, and Universal rushed to sign the artist. The hard work and diverse influences all came together on his major-label debut, Tha Smokin' Nephew, released in 2003. Two years later he returned with Super Saucy. In 2007 his polished album Cyclone, featuring the T-Pain-assisted title track, hit the shelves.

In between albums, Bash expanded to acting and charity work. He was also featured on Santana's 2008 single with Jennifer Lopez, "This Boy's Fire." Bashtown, his fourth major-label release, was issued in 2011 on Upstairs Records. The effort featured appearances by E-40, Paul Wall, and Slim Thug, among others. Unsung: The Album was released in 2013 and included "Break It Down" with Too $hort, and "Slide" with Miguel. Bash recruited frequent cohorts Paul Wall and Frankie J for 2014's Ronnie Rey All Day. Don't Panic, It's Organic arrived in 2016. A year later, Bash reunited with Frankie J for another collaboration, Sangria: The Album. ~ David Jeffries
HOMETOWN

Vallejo, CA

GENRE

BORN

1975