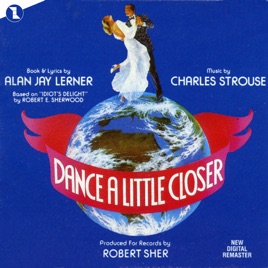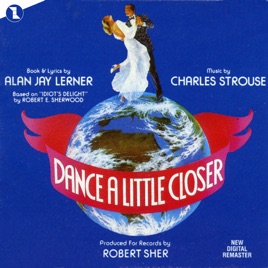 Dance a Little Closer (Original Broadway Cast)
Various Artists
TITLE
TIME

Orchestra

4:22

Alyson Reed, Cheryl Howard, Diane Pennington & Len Cariou

3:51

Alyson Reed, Cheryl Howard, Diane Pennington & Len Cariou

2:25

Liz Robertson

2:18

What Are You Going to Do About It?

Joseph Kolinski & Len Cariou

2:10

A Woman Who Thinks I'm Wonderful

George Rose

2:14

There's Never Been Anything Like Us (Pas de deux)

Len Cariou

4:27

Liz Robertson

3:38

Why Can't the World Go and Leave Us Alone?

Brent Barrett & Jeff Keller

2:53

He Always Comes Home to Me

Len Cariou & Liz Robertson

2:50

Alyson Reed, Cheryl Howard, Diane Pennington & Len Cariou

3:05

Len Cariou & Liz Robertson

2:36

There's Always One You Can't Forget

Len Cariou

3:47

Alyson Reed, Cheryl Howard, Diane Pennington & Orchestra

4:14

Alyson Reed, Cheryl Howard, Diane Pennington & Len Cariou

2:45

I Don't Know / Anyone Who Loves

Alyson Reed, Brent Barrett, Cheryl Howard, Diane Pennington, Elizabeth Hubbard, I.M.Hobson, Jeff Keller, Len Cariou & Liz Robertson

5:35

George Rose

2:49

I Never Want to See You Again

Len Cariou

2:51

Liz Robertson

3:18

Dance a Little Closer (Reprise)

Company, Len Cariou & Liz Robertson

2:00
20 Songs, 1 Hour, 4 Minutes

℗ 1987 JAY Productions Ltd.
Customer Reviews
Not awful, but it isn't the best effort by the composer and lyricist
I saw this on Broadway during its extremely brief run (re-named "Close a Little Faster" by the theatre crowd). The performers were mainly excellent with Len Cariou in the lead role, ably supported by George Rose (Drood), Brent Barrett and Jeff Keller. Barrett and Keller played perhaps the first gay couple in a Broadway show proudly unapologetic. They had a duet "Why Can't the World Go and Leave Us Alone" done while skating onstage. One of the main problems was the basic lack of chemistry between Cariou and Liz Robertson (wife of Alan Jay Lerner). A reworking of the play "Idiot's Delight", the whole endeavor just didn't work. The music has some lovely moments, nicely orchestrated by Jonathan Tunick, Sondheim's arranger. A few of the songs are worth having if you like either Strouse or Lerner: There's Never Been Anything Like This, Another Life, I Got a New Girl, Dance a Little Closer, There's Always One You Can't Forget, Anyone Who Loves, and On Top of the World are all worth listening to.
Fine score
Catchy tunes assembled by two luminaries. Underrated worth a listen.