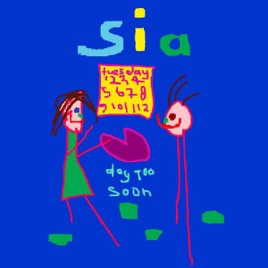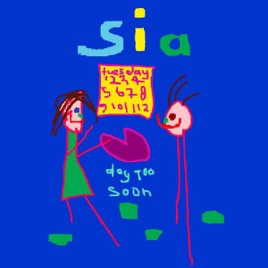 | | TITLE | | TIME |
| --- | --- | --- | --- |
| | | | |
| | | | |
| | The Girl You Lost to Cocaine | | |
| | Day Too Soon (Mock & Toof Edit) | | |
4 Songs, 15 Minutes
Released:

Nov 6, 2007

℗ 2007 Monkey Puzzle Records Limited
Ratings and Reviews
Oh Yeah!
'Day Too Soon'... I love it! Beautifiully optimistic. Guaranteed to make you smile. I'm honestly looking forward to the new album in a huge way. siamusic.net for more treats.
A must-have!
This album is incredible. I was disappointed to see only four songs, but they are well worth the purchase! It is easy to recognize how her style changes over time, yet she always incorporates powerful and distinct vocals. Keep it coming, Sia!!
SIA~~~~~
Heavenly...I only wish it was an LP and not an EP! I can never tire of her!
About Sia
In a career filled with ups and downs, Sia Furler has been an in-demand guest vocalist, a quirky singer/songwriter, a hitmaker for the likes of Rihanna and Beyoncé, and more popular than ever as an artist in her own right in the 2010s. Although raised in Australia, Furler rose to fame after moving to the U.K., where she worked as a guest vocalist for several groups -- including the electronica duo Zero 7 -- and released her own solo albums. Born in 1975, she first performed on the Adelaide jazz circuit during the '90s as a vocalist for the band Crisp. An attempt to launch a solo career in 1997 didn't pan out, though, and she eventually hopped on a plane to London. While there, she landed a gig as a backup singer for Jamiroquai and inked a solo contract with DancePool, a sublabel of Sony.

Sia released her first single, "Taken for Granted," in early 2000. Although the song only peaked at number 100 on the Australian charts, it rose to number ten in the U.K. and increased European demand for her debut album, Healing Is Difficult, which followed in 2001. At the same time, a string of big names in the British music scene began asking for Sia's services; offers from Zero 7 and William Orbit ensued. Although some projects only called for Sia to sing on one song, her association with Zero 7 proved to be a recurring event. She ultimately remained with Zero 7 for three albums, serving as the group's go-to vocalist while also furthering her own career with solo releases like Colour the Small One and Some People Have Real Problems.

Meanwhile, Sia also began building an audience in America. One of the songs from Colour the Small One, "Breathe Me," gained attention when it was used in the elaborate final scene of the Six Feet Under series, and the resulting buzz allowed her to enjoy a successful stateside tour. That tour was documented on her first live release, Lady Croissant, in 2007. By the following year, Sia's American audience had increased to the point that Some People Have Real Problems, her third album, debuted at number 26.

Zero 7 began working on another album in 2009, but Sia had already shifted most of her attention to furthering her own career, and the band hired another singer in her place. Working alongside bassist Sam Dixon, she boosted her songwriting cred by writing several songs for Christina Aguilera, who put the songs on her 2010 release, Bionic. Sia also continued writing songs for herself, and We Are Born marked her most upbeat album to date in 2010. It also went on to become very successful, charting around the world and going to number two in Australia.

But Sia, whose shy and withdrawn personality was at odds with her public persona, began to struggle with the pressures of fame. She spent the next few years out of the spotlight, continuing her parallel career as a backroom songwriter for the likes of Madonna, Britney Spears, Beyoncé, Celine Dion, and Rihanna, for whom she wrote the worldwide number one smash hit "Diamonds." In 2013, she started on a new album, working once again with producer Greg Kurstin.

Wary of another breakdown, she eventually negotiated a near-unprecedented contract with RCA stipulating that she would not have to tour or do press; her first public appearance to promote the album on The Ellen DeGeneres Show saw her perform her new single, "Chandelier," with her back to the audience. The album, entitled 1000 Forms of Fear, arrived in July 2014. It promptly hit number one in several countries, including the U.S. and Australia. Furler and Kurstin also reworked existing music and wrote three new songs for the 2014 adaptation of the Broadway musical Annie; one of their new compositions, "Opportunity," was nominated at the 72nd Golden Globe Awards for Best Original Song. At the 77th Annual Grammy Awards, "Chandelier" scored nominations for Record of the Year, Song of the Year, Best Pop Solo Performance, and Best Music Video. Empowered by the acclaim earned by 1000 Forms of Fear, Sia began work on its follow-up in early 2015. Late that year, the singles "Alive" (which Furler co-wrote with Adele) and "Bird Set Free" heralded the January 2016 release of This Is Acting, a pop-oriented set of previously unrecorded songs she wrote for artists such as Katy Perry, Rihanna, and Adele. In July, "Cheap Thrills" -- the second official single, originally intended for Rihanna -- became Sia's first Billboard 100 chart-topper. In 2017, Sia released several non-album tracks, including the Zayn duet "Dusk 'til Dawn" and the Stargate and P!nk collaboration "Waterfall." Later that year, she and Kurstin reunited for Everyday Is Christmas, a set of original holiday songs including the single "Santa's Coming for Us." The album was released on Sia's Monkey Puzzle imprint that November. ~ Andrew Leahey & David Peter Wesolowski
HOMETOWN

Adelaide, South Australia, Austra

GENRE

BORN

December 18, 1975