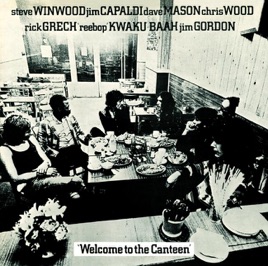 | | TITLE | | TIME |
| --- | --- | --- | --- |
| | | | |
| | Sad and Deep As You (Live) | | |
| | Forty Thousand Headman (Live) | | |
| | Shouldn't Have Took More Than You Gave (Live) | | |
| | | | |
| | | | |
6 Songs, 38 Minutes
Released:

Sep 1, 1971

℗ 2002 Universal-Island Records Ltd.
Ratings and Reviews
Welcome To The Canteen
While there are only six tracks on this recording, they reflect the two distinct sides of the early version of Traffic. "Medicated Goo", "40,000 Headmen", and "Dear Mr. Fantasy" are classic Winwood inspired tracks. He sings lead on all of them and they are stylistically diverse from one another, offering a great cross section of the band's early psychedelic inspired sound. "Dear Mr. Fantasy" includes an extended jam, which features both Mason and Winwood on guitar. Conversely, "Sad And Deep As You" and "Shouldn't Have Took More Than You Gave" are classic Dave Mason material. Mason sings lead on both of them, which come from Mason's first solo album. Neither was recorded by Traffic while Mason was in the band. The first is folk based, while the second is a pop rocker, complete with outstanding guitar work.

The last track on the album, "Gimme Some Lovin'", comes from Winwood's stint with the Spencer Davis Group. It is one of the few cuts on the album that features Winwood on organ. All six tracks are well played, featuring strong performances from the entire band. On balance, Welcome To The Canteen showcases the various guises of the band and is a worthwhile addition to your live collection. It has also been recently reissued, with reputedly much better sound quality.

oh so nice
traffic was so hot--different kind of rock---i wish all these old bands came back and knock out these crappy music we have today
Welcome to the Canteen
I bought this album as a teenager in '71, when it was an underground recording, and played it 'til I wore it out. Now that i'm 50 sumthin' Ive spent countless hours in search of this very CD. It was as truely fabulous back then as it is now. All the "background stuff" that the remaster couldn't get rid of is great too.... It takes me back to the days when the musicians could cruse around in the audiance before, during & after a gig & interact w/ all of us at will. Too bad the stupid papparazzi & celeb mongers ruined it for every one.....