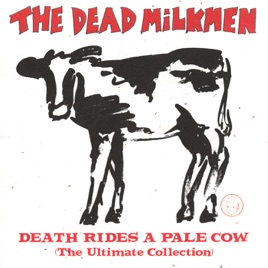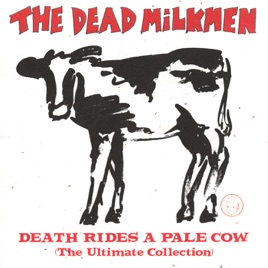 | | TITLE | | TIME |
| --- | --- | --- | --- |
| | | | |
| | | | |
| | | | |
| | | | |
| | | | |
| | | | |
| | | | |
| | The Thing That Only Eats Hippies | | |
| | | | |
| | | | |
| | | | |
| | | | |
| | | | |
| | | | |
| | | | |
| | | | |
| | | | |
| | | | |
| | If You Love Someone Set Them On Fire | | |
| | | | |
| | The Girl With the Strong Arm | | |
| | | | |
| | | | |
23 Songs, 1 Hour 2 Minutes
Released:

Nov 11, 1997

℗ 1997 Restless Records, manufactured & marketed by Rhino Entertainment Company, a Warner Music Group company.
About The Dead Milkmen
During their heyday in the late '80s, the Dead Milkmen led a crop of college-radio jokesters that also included Mojo Nixon, King Missile, and Too Much Joy, among others. Playing a basic, happily amateurish brand of punk-pop, the Milkmen skewered popular culture, indie trend followers, and the intellectually challenged, while frequently indulging their taste for tastelessness. Critics alternately praised and dismissed the band as geeky, juvenile wiseasses -- virtually every review seemed to contain the word "sophomoric," and either you found them funny or you didn't. But despite the mixed reviews, the Milkmen earned a devoted cult following (which famously included Detroit Tigers utility infielder Jim Walewander), a few novelty hits on college radio, and even an MTV hit with "Punk Rock Girl." As polarizing as their sense of humor was among critics, it was what fans wanted and came to expect, and attempts to move into more genuine, serious territory during the '90s effectively spelled the end of the band. Oddly enough, by that time they were exerting at least a small measure of influence -- perhaps more than any of their peers, they paved the way for the legion of smart-assed geek-rockers who ruled alternative radio for a brief period in the mid-'90s.

The Dead Milkmen were formed at Philadelphia's Temple University in 1983. Guitarist and occasional vocalist Joe Jack Talcum (born Joe Genaro) and lead singer Rodney Anonymous (aka Rodney Amadeus Anonymous, aka Rodney Anonymous Melloncamp, born Rodney Linderman) grew up together in the small Pennsylvania town of Wagontown. During high school, Genaro started writing a newsletter about a fictional band called the Dead Milkmen, and the exploits of their lead singer, Jack Talcum. When Genaro graduated and enrolled at Temple, he and Linderman kept up a songwriting partnership through the mail. Through his acquaintances at Temple, Genaro met drummer Dean Clean (born Dean Sabatino), who played in a local punk band called Narthex, and bassist Dave Blood (David Schulthise), with whom he struck up a songwriting partnership. All three started playing together in 1983, and with Rodney Anonymous joining them that summer, they performed their first gig as the Dead Milkmen.

Over the next year or two, the Milkmen recorded several live, self-released cassettes, and achieved considerable local notoriety with a live radio performance in 1984. They earned some attention in the punk magazine Maximumrocknroll, and the resulting buzz helped them land a deal with Restless Records subsidiary Fever. In 1985, they issued their debut album, Big Lizard in My Backyard, which consisted mostly of material from their cassette releases. The track "Bitchin' Camaro" -- which featured a rambling spoken intro full of snotty putdowns and nonsensical banter -- became a hit on college radio, and sloppy joke-punk tunes like "Takin' Retards to the Zoo" cemented their new cult following. The follow-up, Eat Your Paisley!, appeared in 1986, and while some fans considered it a letdown, they had some radio success with "The Thing That Only Eats Hippies." Released in 1987, Bucky Fellini was a return to form that spawned the underground smash "Instant Club Hit (You'll Dance to Anything)," a spot-on satire of Britain's gloomy alternative music and the pretension of its attendant subculture in America. The song (and several remixes) served as the basis for an EP, and it also pushed Bucky Fellini onto the national album charts for the first time in the band's career.

Poised for something vaguely resembling a breakthrough, the Milkmen expanded their cult following even further with 1988's Beelzebubba. That was largely due to the single "Punk Rock Girl," a college-radio smash whose video was also aired fairly extensively on MTV. Beelzebubba just missed climbing into the Top 100 and wound up as the group's biggest seller, also featuring fan favorites "Stuart" and "Life Is Shit." A second single, "Smokin' Banana Peels," was also released, and anchored another EP that featured five additional new songs, including the gross-out-fest "The Puking Song." The band's proper follow-up, Metaphysical Graffiti, appeared in 1990 and featured guest vocals from the Butthole Surfers' Gibby Haynes on "Anderson, Walkman, Buttholes and How." However, the album received a mixed response from fans, some of whom praised the beefed-up production but others of whom found the material erratic; in any case, it stalled some of the band's momentum. There were also reports that their record company was unhappy with the unlisted bonus track, "Cousin Earl," a nearly seven-minute shaggy-dog story that piled on the Milkmen's gross-out humor to previously unimagined levels.

Whether it was the fault of "Cousin Earl" or the fact that Restless' parent company, Enigma, went bankrupt, the Dead Milkmen found themselves hunting for a new label after Metaphysical Graffiti. They wound up on the Disney-run Hollywood Records, and in an even more bizarre twist, elected to play things mostly straight -- with no pressure from the company to do so -- on their 1992 label debut, Soul Rotation. Perhaps signaling what they hoped was a new era for the band, Anonymous adopted the new name H.P. Hovercraft, while Talcum switched his to Butterfly Fairweather and took on a larger share of the lead vocal duties. Some critics -- mainly those who'd never found the Milkmen all that funny -- and a minority of fans embraced the record and its more eclectic songwriting, but the new direction simply wound up alienating most of the group's fan base. A second album for Hollywood, 1993's Not Richard, But Dick, fared even more poorly, and the Milkmen were dropped.

The Milkmen did celebrate their tenth anniversary in 1993 by self-releasing Now We Are 10, a CD compilation of some of their early cassette-only recordings. They returned to Restless Records for 1994's Chaos Rules: Live at the Trocadero, a run through some of their best-known songs, and offered the new studio set Stoney's Extra Stout (Pig) in 1995. It was virtually ignored, and the Milkmen elected to disband. All the members got day jobs, and most continued in music on a local basis in Philadelphia. Rodney Anonymous reverted to his given name and started a gothic-tinged Celtic rock band called Burn Witch Burn, which issued a self-titled CD in 2000. Joe Jack Talcum and Dean Clean reunited, also under their real names (Genaro and Sabatino), in Butterfly Joe, who also released a self-titled debut nationally in 2000. The two also gigged with several other Philly bands during the '90s: Genaro with the Town Managers, Touch Me Zoo, and the Low Budgets, and Sabatino with the Big Mess Orchestra. Dave Blood, meanwhile, gave up the bass due to pain in his hands, and went to graduate school to further his interest in the former Yugoslavia. Meanwhile, Restless issued the career retrospective Death Rides a Pale Cow (titled after one of their early cassettes) in 1997, and 2003 brought Now We Are 20, an expanded reissue of Now We Are 10 given wider release by Restless. Philadelphia in Love, a DVD collecting the band's music videos, was also issued.

On March 10, 2004, Blood took his own life after struggling with depression as well as physical pain. Later in the year, the surviving Milkmen played two tribute shows at the Trocadero, with the Low Budgets' Dan Stevens filling in on bass. Four years later, the same lineup played two more shows in Philly, followed by a gig at Fun Fun Fun Fest in Austin. The band continued touring, and began working on a new album in 2010. The self-released full-length The King in Yellow appeared in 2011, initially as a digital-only release before its CD issue later in the year. In 2012, the Milkmen started releasing a series of limited-edition 7" singles on their own Quid Ergo label, starting with "Dark Clouds Gather Over Middlemarch" and "Big Words Make the Baby Jesus Cry," followed in 2013 by "The Great Boston Molasses Flood" and "Welcome to Undertown." All of the A-sides and most of the B-sides appeared on the 2014 full-length Pretty Music for Pretty People. The Milkmen contributed "If the Kids Could Git Together" to a split 7" with Flag of Democracy, released by SRA Records in 2015. In 2017, the Milkmen's Welcome to the End of the World EP was released by the Philadelphia-based label The Giving Groove. ~ Steve Huey
ORIGIN

Philadelphia, PA

GENRE

FORMED

1983
50 million songs.
Zero ads.
New subscribers only. Plan automatically renews after trial.