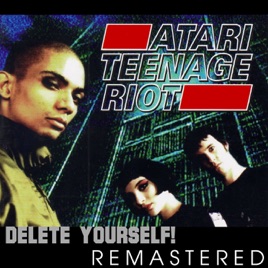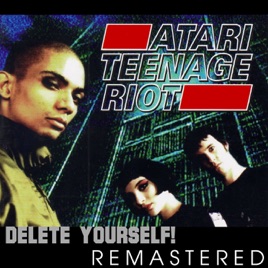 Delete Yourself (Remastered)
| | TITLE | TIME |
| --- | --- | --- |
| | | 3:37 |
| | | 3:27 |
| | | 3:27 |
| | | 2:50 |
| | | 3:36 |
| | | 5:16 |
| | Delete Yourself! You Got No Chance to Win! (Live) | 4:32 |
| | Hetzjagd auf Nazis! (Live) | 5:17 |
| | | 3:36 |
| | | 3:39 |
| | | 3:38 |
| | | 3:36 |
| | Atari Teenage Riot (1st Studio Recording) | 3:09 |
| | Children of the New Breed | 3:32 |
| | | 5:23 |
15 Songs, 58 Minutes

℗ 2012 Digital Hardcore Recordings
Ratings and Reviews
They're not Nazis
They were created to oppose Neo-Nazis. The song with the word Nazi in it translates to "Hunt Down the Nazis".
One of Their Best Albums
I love this album! It's a rapturous signal to the last of the techno dissenters. ATR existed in a time when electronic music was all the rage and they stood directly opposed to that. Using noise and distorted samples of rock riffs along with excited anti-conformaty message, ATR manages to be the sole example of digital-counter culture existing in a space where others give in to the mega-corporations ideas for a 'true cyber-punk band'.
Awesome Album
Beyond sonic, ATR WAS messy and guttural, futuristic yet vintage, fury and poetry to insane breakbeats and unleashed guitar.
Buy this thing.
About Atari Teenage Riot
Berlin hardcore dissenters Atari Teenage Riot were among a new generation of German techno artists (also including ATR's Alec Empire, EC80R, Speed Freak, DJ Bleed, etc.) who sought to reconnect music with political radicalism through ever more challenging, experimental hybrids, engaging everything from speed metal and acid to jungle and hardcore punk. Formed in 1992 by Empire, Hanin Elias, and Carl Crack, ATR's controversial first single, "Hunting for Nazis," was released by German techno stronghold Force Inc. that same year (Force Inc. owner Achim Szepanski is also known for his commitment to political radicalism). Subsequently, the group released a string of singles and full-lengths, all of them instantly recognizable for their brash, noisy fusions of brittle, 200-plus-bpm breaks, massive guitar riffs, and a good deal of shouting. Similar in motivation to Detroit's Underground Resistance or industrial dance group Consolidated, ATR professed a concern with a general conservative shift in the Western political climate (particularly in Germany after the collapse of Communism in Russia and Eastern Europe) and supported the development of new, overtly political forms of youth culture by way of response.

Somewhat surprisingly, ATR's early singles landed them a recording deal with U.K. major Phonogram in 1993, through which they released a number of singles before skipping out on their contract (the label reportedly wanted more straight-ahead, commercial techno from the group). Using their Phonogram advance for the full-length album they never delivered, ATR formed Digital Hardcore Recordings in 1994, the imprint under which they released most of their subsequent material, including the full-lengths Delete Yourself and The Future of War, plus a number of singles and EPs. DHR also expanded to include a number of up-and-coming German artists -- including EC8OR and Shizuo -- with similar political leanings, and signed a domestic licensing deal with Beastie Boys' Grand Royal label in 1996. Partly as a result of that deal and partly through the increasing popularity of ATR member Alec Empire (who released a number of solo full-lengths and singles through Force Inc., Chrome, Mille Plateaux, and Riot Beats, as well as DHR), ATR became one of the first new-school European techno artists to achieve success in America, with alternative radio and MTV picking up on the group in late 1996 and the release early the following year of Burn, Berlin, Burn!, an American compilation collecting tracks from the first two albums.

Their third album, 60 Second Wipe Out, appeared in 1999 on Elektra, and featured new vocalist Nic Endo. Live at Brixton Academy 1999, a noise set recorded at a gig opening for Nine Inch Nails, was released on DHR in 2000. The band went on hiatus to allow Crack to seek psychiatric treatment and deal with declining health caused by long-simmering addictions. Unfortunately, the break was not enough and Crack was found dead in his Berlin apartment on September 6, 2001. The band dissolved soon after, with the rarities set Redefine the Enemy appearing in 2002, followed by the retrospective Atari Teenage Riot: 1992-2000, which appeared in 2006. Years later, however, ATR reconvened with Empire and Endo joined by vocalist CX KiDTRONiK. In 2011, the trio released Is This Hyperreal?, a true-to-old-form return that was issued in the U.S. through Steve Aoki's Dim Mak label. The lineup toured throughout Europe, America, and Asia, and the live album Riot in Japan 2011 was released. By 2014, KiDTRONiK had been replaced by MC Rowdy Superstar, and this lineup of ATR released Reset. Initially available only in Japan, it was given an international release in 2015. ~ Sean Cooper
ORIGIN

Berlin, Germany

GENRE

FORMED

1992