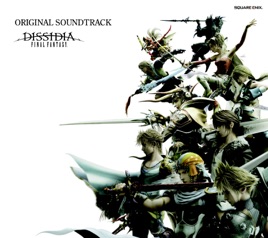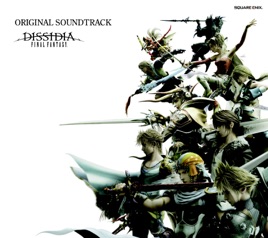 DISSIDIA FINAL FANTASY Original Soundtrack
TITLE
TIME
PRICE

「DISSIDIA - opening -」 from DISSIDIA FINAL FANTASY

Takeharu Ishimoto

5:34
$0.69

「Prelude - menu -」 from DISSIDIA FINAL FANTASY

3:00
$0.69

「DISSIDIA - menu -」 from DISSIDIA FINAL FANTASY

Takeharu Ishimoto

1:24
$0.69

「Keeping the Peace」 from DISSIDIA FINAL FANTASY

Takeharu Ishimoto

2:26
$0.69

「Cosmos」 from DISSIDIA FINAL FANTASY (featuring Your Favorite Enemies)

Takeharu Ishimoto

6:09
$0.69

「Victory Fanfare - Cosmos -」 from DISSIDIA FINAL FANTASY

1:13
$0.69

「Main Theme - arrange -」 from FINAL FANTASY I

1:29
$0.69

「Battle - arrange -」 from FINAL FANTASY I

3:33
$0.69

「Dungeon - arrange -」 from FINAL FANTASY I

2:27
$0.69

「Main Theme - arrange -」 from FINAL FANTASY II

1:56
$0.69

「Battle Theme 1 - arrange -」 from FINAL FANTASY II

3:44
$0.69

「Battle Theme 2 - arrange -」 from FINAL FANTASY II

2:53
$0.69

「Warriors of Light」 from DISSIDIA FINAL FANTASY

Takeharu Ishimoto

0:35
$0.69

「Eternal Wind - arrange -」 from FINAL FANTASY III

2:23
$0.69

「Battle 2 - arrange -」 from FINAL FANTASY III

3:02
$0.69

「This is the Last Battle - arrange -」 from FINAL FANTASY III

1:59
$0.69

「Battle Preparations」 from DISSIDIA FINAL FANTASY

Takeharu Ishimoto

1:48
$0.69

「Main Theme Of Final Fantasy IV - arrange -」 from FINAL FANTASY IV

2:40
$0.69

「Battle With The Four Fiends - arrange -」 from FINAL FANTASY IV

3:12
$0.69

「Battle 2 - arrange -」 from FINAL FANTASY IV

Takeharu Ishimoto

2:26
$0.69

「Victory Fanfare - Chaos -」 from DISSIDIA FINAL FANTASY

1:20
$0.69

「Four Hearts - arrange -」 from FINAL FANTASY V

1:50
$0.69

「Battle at the Big Bridge - arrange -」 from FINAL FANTASY V

2:29
$0.69

「Battle 1 - arrange -」 from FINAL FANTASY V

1:15
$0.69

「At Presentiment's Edge」 from DISSIDIA FINAL FANTASY

Takeharu Ishimoto

3:12
$0.69

「Terra's Theme - arrange -」 from FINAL FANTASY VI

1:06
$0.69

「The Decisive Battle - arrange -」 from FINAL FANTASY VI

1:57
$0.69

「Battle to the Death - arrange -」 from FINAL FANTASY VI

2:29
$0.69

「The Quickening」 from DISSIDIA FINAL FANTASY

Takeharu Ishimoto

1:59
$0.69

「The Troops' Advance」 from DISSIDIA FINAL FANTASY

Takeharu Ishimoto

2:34
$0.69

「Main Theme of Final Fantasy VII - arrange -」 from FINAL FANTASY VII

2:21
$0.69

「One-Winged Angel - orchestra version -」from FINAL FANTASY VII

Nobuo Uematsu

4:26
$0.69

「Fight On! - arrange -」 from FINAL FANTASY VII

3:07
$0.69

「A Brief Respite」 from DISSIDIA FINAL FANTASY

Takeharu Ishimoto

0:54
$0.69

「Blue Fields - arrange -」 from FINAL FANTASY VIII

2:15
$0.69

「Don't be Afraid - arrange -」 from FINAL FANTASY VIII

2:55
$0.69

「The Extreme - original -」 from FINAL FANTASY VIII

Nobuo Uematsu

4:19
$0.69

「Defeat」 from DISSIDIA FINAL FANTASY

Takeharu Ishimoto

0:51
$0.69

「Over the Hill - arrange -」 from FINAL FANTASY IX

2:37
$0.69

「Battle 1 - arrange -」 from FINAL FANTASY IX

3:15
$0.69

「Battle 2 - original -」 from FINAL FANTASY IX

Nobuo Uematsu

3:58
$0.69

「Mambo de Chocobo - original -」 from FINAL FANTASY V

Nobuo Uematsu

1:11
$0.69

「Movement in Green - arrange -」 from FINAL FANTASY X

2:10
$0.69

「Otherworld - original -」 from FINAL FANTASY X

Nobuo Uematsu

3:14
$0.69

「Battle Theme - original -」 from FINAL FANTASY X

Nobuo Uematsu

3:11
$0.69

「Victory Fanfare - original -」 from FINAL FANTASY V

Nobuo Uematsu

0:44
$0.69

「The Federation of Windurst - original -」 from FINAL FANTASY XI

Naoshi Mizuta

2:54
$0.69

「Battle in the Dungeon #2 - original -」 from FINAL FANTASY XI

Naoshi Mizuta

1:32
$0.69

「Theme of the Empire - original -」 from FINAL FANTASY XII

Hitoshi Sakimoto

3:56
$0.69

「Boss Battle - original -」 from FINAL FANTASY XII

Hitoshi Sakimoto

3:25
$0.69

「Answer」 from DISSIDIA FINAL FANTASY

Takeharu Ishimoto

1:53
$0.69

「Chaos - Last Battle 1 -」 from DISSIDIA FINAL FANTASY (featuring Your Favorite Enemies)

Takeharu Ishimoto

5:41
$0.69

「FINAL FANTASY」 from DISSIDIA FINAL FANTASY

Takeharu Ishimoto

2:13
$0.69

「DISSIDIA - ending -」 from DISSIDIA FINAL FANTASY

Takeharu Ishimoto

8:41
$0.69

THE MESSENGER (featuring Your Favorite Enemies)

Takeharu Ishimoto

4:13
$0.69
55 Songs

℗ 2008 SQUARE ENIX
Customer Reviews
Dissidia Final fantasy
The Dissidia Final Fantasy come to iTunes!! yeah
I love all the soundtrack which in the game it is good
worth to buy it!
How coincidental!
WOW! The day before I realized that I wanted this soundtrack, but when I went on eBay, I decided that I wasn't going to pay a bunch of money for 55 songs when I only want about 10 of them. But, as soon as I saw this, I freaked out and got really excited! I can finally buy the songs from this game that I really liked! I am mostly excited about getting the Boss Battle theme from Final Fantasy XII because for some reason iTunes has not uploaded that soundtrack and I am most DEFINITELY not going to buy that one on eBay because I didn't care much for it. Thanks so much, iTunes! YOU NEED TO UPLOAD MORE GAME SOUNDTRACKS!!! FINAL FANTASY IS NOT ENOUGH! YOU WOULD MAKE SO MUCH MORE MONEY IF YOU LISTENED TO ME!!!