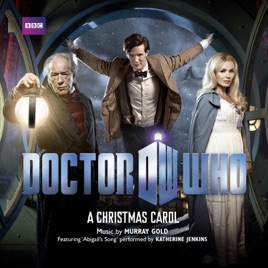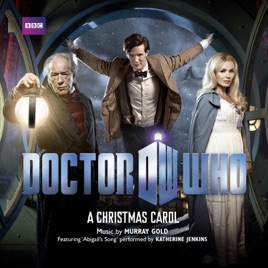 Doctor Who - A Christmas Carol
TITLE
TIME
1:51
1:38
0:37
3:47
1:44
0:50
1:29
1:33
0:47
1:41
1:43
1:16
1:50
3:34

The Other Half's Inside the Shark

1:07
1:47
1:09
1:24
0:59
1:45
0:38
1:51
2:09
2:00

Ghost of Christmas Present

0:48
1:35

Ghost of Christmas Future

1:49

Abigail's Song (Silence Is All You Know)

Katherine Jenkins

4:41

Everything Has to End Some Time

1:14
29 Songs, 49 Minutes

℗ 2011 Silva America
Ratings and Reviews
Just in time for Christmas!
As a big fan of Doctor Who, I am glad that the soundtrack for the 2010 DW Christmas episode, A Christmas Carol, was finally released here in the United States. It is unusal for a Doctor Who episode to get a soundtrack all on its own. Normally, DW episodes get just a few tracks on the other soundtracks released for the show. A Christmas Carol is an exception to the rule. The episode had many amazing songs mainly Abigal's Song sung by the beautiful singer, Katherine Jenkins. I can't wait to download this soundtrack along with the Doctor Who Series 6 soundtrack. It's awesome to download two new DW soundtracks in one month. It is a great Christmas gift.
Why $20 for a single disc soundtrack?
There is less than an hour's material on here, and the physical CD version is only one disc, yet the price is $19.99. I love this music, but I do not want to overpay for this.
FINALLY
Finally Abigail's Song !!! Awesome
About Murray Gold
Described as the U.K.'s answer to Bear McCreary, Murray Gold is one of the most successful TV composers of the last decade. Born in Portsmouth in 1969, Gold started playing the piano at the age of six, and in his teens he arranged for high-school brass ensembles. After studying History at Cambridge University, he worked on a theater production at the Edinburgh Festival and became a scriptwriter for Channel 5 before his first score of a BBC-TV adaptation of Vanity Fair launched his composing career. A regular stalwart of writer Russell T. Davies, Gold provided the soundtracks for Queer as Folk and Casanova, and in 2005 he became the musical director of the revamped Doctor Who, creating a new arrangement for its iconic theme tune. Since then, five compilation albums featuring the music for the sci-fi series have been released. Featuring vocal contributions from soprano Melanie Pappenheim and the Divine Comedy's Neil Hannon, the collections have become the biggest-selling TV soundtracks in the U.K. In 2010 he performed at The Proms and arranged and orchestrated two live Doctor Who concerts at Cardiff's Millennium Centre and London's Royal Albert Hall. Gold has also scored several movies, including Death at a Funeral and Alien Autopsy, and wrote the soundtrack to Doctor Who spinoffs Torchwood and The Sarah Jane Adventures. ~ Jon O'Brien