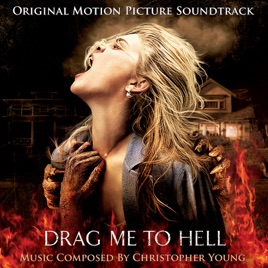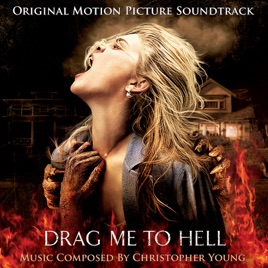 Drag Me to Hell (Original Motion Picture Soundtrack)
TITLE
TIME
2:32
4:33
1:52
4:06
3:24
2:23
2:11
6:31
4:35

Bealing Bells With Trumpet

5:12
1:46

Muddled Buddled Brain Stew

Chrisopher Young

2:51
4:31
5:58
14 Songs, 52 Minutes

℗ 2009 Lakeshore Records
Ratings and Reviews
The Jolts of Energy the Horror Soundtrack Needed
The release of Christopher Young's Drag Me to Hell score has been one of my most anticipated releases for a movie soundtrack this year (at times, even more that the release of Tarantino's Inglourious Basterds). When I first saw the film on opening night, I was captivated, not only by the comedic and ghastly imagery unfolding on-screen, but by Christopher Young's ethereal and bombastic ode to the Universal monster movies of the golden age. The opening and finale tracks are must owns for any fan of Young's work or of soundtrack connoisseurs in general, but it's also worth noting that each track is unique in its own way and perfectly demonstrates Young's capability with the genre, as well as building up to a finale one doesn't really see in score soundtracks these days. So if you're looking for a horror soundtrack that ranks up with the scores for classics like Halloween and Hellraiser (also done by Young), you needn't look any further, for it's only a dragging to Hell away.
FINALLY!
this soundtrack has taken way too long to release, but it was definitely worth the long wait. definitely.
Ive been waiting for this album so long!!!!!!!!!!
Its finally here. Right from the start of the film i loved the music and right after the movie i came home logged onto itunes but there was nothing there but finally its here.
About Christopher Young
Christopher Young composed film scores for over 50 movies beginning in 1980, including Hellraiser (1987), The Five Heartbeats (1991), Murder in the First (1995), and Wonder Boys (2000); as well as scores for TV movies such as Vietnam War Story: The Last Days (1989), Max and Helen (1990), and the project that garnered him an Emmy nomination, 1996's Norma Jean and Marilyn. Born in Redbanks, NJ, Young attended the Manhattan School of Music, North Texas State University, and UCLA before scoring his first film, 1980's The Power. He went on to work with director John Dahl and for Miramax and Paramount, scoring many more movies -- often horrors and thrillers -- including Oasis (1984), Bat 21 (1988), Copycat, Tales From the Hood (1995), and Rounders (1998). Young opened a studio in the early '90s and has regularly lectured at UCLA. ~ Joslyn Layne
ORIGIN

Redbanks, NJ

GENRE