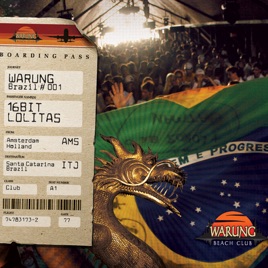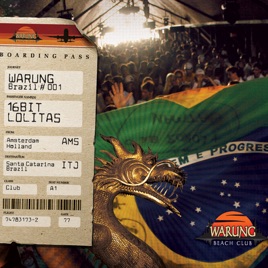 Warung Brazil 001 Presents the 16 Bit Lolitas
TITLE
TIME

Lewie Day

5:04

Dead Arm

3:02

Don't Lie (Martin Buttrich Mix)

Sharam Jey

6:20

Myers Briggs

0:30

16 Bit Lolitas & Jennifer Horne

7:06

Spirit Catcher & Compuphonic

4:57

Stallos

6:20

Distant bar (Gutterstylz Mix)

Astrid Suryanto

5:35

The Music (Dave Robertson Remix)

Dorje

4:41

Yvel & Tristan

4:26

Wave controls (16 Bit Lolitas Warung Remake)

Doug McCourt

6:36

Haito & Dirinerg

4:49

Dnox Beckers

3:59

High love (16 Bit Lolitas Warung remake)

Interplay

7:34
5:35
5:50
4:41

Tim Likes Breaks (Intermezzo)

0:45
5:20
7:52
6:03
4:11
5:12
6:51
6:36
8:06
26 Songs, 2 Hours, 18 Minutes

℗ 2008 Hope Recordings
WRONG GENRE!!
The album's okay, but it's really an example of O.S. Electronica.......listen for yourself!!!
4 good songs for a dance mix
you will find a few songs on this album that will compliment your dance mix. for example "nobody seems to care" is the best track. I also like "sacred spirit" & "distant bar."
Melodic Prog House
If you liked the melodic prog house sound from a few years ago you will love this album. Very sublime with some great buildups and a great overall feeling. Good mixes and great track selection. Check out songs 5 and 6 for an example of the rest of the album.