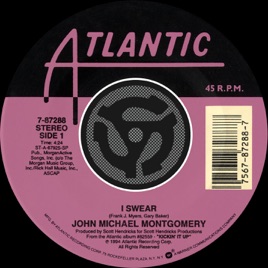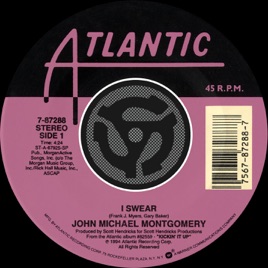 I Swear / Dream On Texas Ladies - Single
2 Songs, 7 Minutes
Released:

Jan 27, 1994

℗ 1994 Atlantic Recording Corp. Marketed by Rhino Entertainment Company, a Warner Music Group Company.
Ratings and Reviews
okay,
This isn't for me but for other people it might be good i guess!!
About John Michael Montgomery
Part of the '90s wave of honky tonk hitmakers that brought country to new commercial heights, John Michael Montgomery made his name primarily as a romantic balladeer. Yet despite his sometime adult contemporary leanings, his vocal style remained solidly grounded in country tradition. Montgomery was born in 1965 in Danville, KY, near Lexington and learned guitar from his father, a local musician. He first performed in public at age five with his father's band, which also featured his mother on drums. By 15, he was performing regularly on the local scene and at 17 became the lead singer of a group with his father and brother after his parents divorced. Following high school, he played around the local honky tonk circuit and was discovered at a favorite venue in Lexington, which led to a contract with Atlantic in 1991. Montgomery issued his debut album in 1992, titling it after the lead single, "Life's a Dance." The song rocketed into the Top Five, and its follow-up, "I Love the Way You Love Me," went all the way to number one, helping the album climb into the country Top Five. That set the stage for 1994's Kickin' It Up, a bona fide, multi-platinum blockbuster that topped both the country and pop charts and made Montgomery a star. Three number one country hits -- "I Swear," "Be My Baby Tonight," and "If You've Got Love" -- sprang from the album as well as another Top Five hit, "Rope the Moon." A self-titled 1995 follow-up also topped the country charts and kept Montgomery's hit streak alive with the number one smashes "Sold (The Grundy County Auction Incident)" and "I Can Love You Like That," plus more Top Fivers in "No Man's Land," "Cowboy Love," and "Long as I Live." Late in 1995, Montgomery was forced to take time off for surgery to repair his vocal cords. Montgomery recovered in time to put out What I Do the Best in 1996. "Friends" and "How Was I to Know" both hit number two, and "I Miss You a Little" was also a Top Ten hit. A Greatest Hits compilation was released in 1997, and Montgomery returned in 1998 with Leave a Mark, which found him continuing to move into more polished territory. "Cover You in Kisses" and "Hold on to Me" were the Top Five hits this time out. Things got even smoother on the very adult contemporary-styled Home to You, which appeared in 1999 and whose title cut reached number two on the country charts. Still, Montgomery's crossover-friendly approach was beginning to affect his sales in the country marketplace. 2000's Brand New Me featured a higher percentage of up-tempo tracks, and it peaked at number two on the country charts; plus, his duet with Alison Krauss, "The Little Girl," gave him another number one hit. His next album, 2002's Pictures, was an attempt to move into more mature, adult territory, while 2003 saw a holiday album, Mr. Snowman, appear. Letters from Home arrived in 2004. Montgomery moved to Stringtown Records and released Time Flies in 2008.. ~ Steve Huey
HOMETOWN

Danville, KY

GENRE

BORN

January 20, 1965