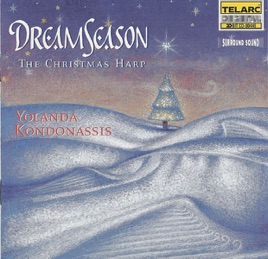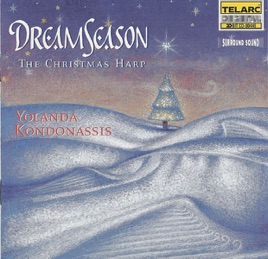 | | TITLE | | TIME |
| --- | --- | --- | --- |
| | | | |
| | | | |
| | | | |
| | | | |
| | God Rest Ye Merry, Gentlemen | | |
| | | | |
| | We Three Kings Of Orient Are | | |
| | | | |
| | | | |
| | | | |
| | Bring A Torch, Jeannette, Isabella | | |
| | O Little Town Of Bethlehem | | |
| | | | |
| | Short Fantasy On A Neapolitan Carol | | |
| | | | |
| | | | |
| | Angels We Have Heard On High | | |
| | | | |
| | | | |
| | | | |
20 Songs, 49 Minutes
Released:

Sep 1, 1997

℗ 1997 Telarc International Corp.
About Yolanda Kondonassis
American harpist Yolanda Kondonassis is one of the world's most famous players of her instrument.

At home in Oklahoma, she turned to music early, starting piano at the age of three. This was a matter of family talent coming down to her; Yolanda's mother was also a pianist and carefully watched her development. On a trip to Chicago at the age of nine, Yolanda saw the window display of the Lyon & Healy music store, one of the world's leading manufacturers of harps. The loveliness of the display appealed to her, and she asked for harp lessons as well. She did not give up piano, but studied both instruments through high school.

She says the piano was "neck and neck" with the harp as her ultimate choice. The choice was made by a several factors. One was that she had a facility for developing the particular muscles that are used in harp playing (and virtually nothing else). Another was that she loved the sensation of creating the music directly by her own fingers on the strings. And she felt that she could contribute more as a harpist.

At age 14, she began boarding at the Interlochen Arts Academy. Her higher education was at the Cleveland Institute of Music. Her teacher there was Alice Chalifoux, the principal harpist of the Cleveland Orchestra. Kondonassis obtained both her bachelor's and master's degrees at Curtis.

A competition win gained her a young artists' debut prize as a soloist with Zubin Mehta and the New York Philharmonic. She obtained regular employment as an orchestral harpist (and has held this job with the Cleveland Orchestra, the St. Louis Symphony, the San Francisco Symphony, and the Atlanta Symphony). In 1987 she won the top prize in the Affiliate Artists National Auditions, which enabled her to tour for five years. She developed a type of program she called "informances," where she plays music, makes light commentary, and also interacts with the audience.

She plays all the regular harp repertory, and has recorded much of it. Her Sky Music CD was one of the Ten Best Classical CDs of 1996 in the estimation of the New York Daily News. Her recording of the Mozart Flute and Harp Concerto with the English Chamber Orchestra was released in 1997. She has recorded major 20th century works featuring the harp by Salzedo, Ginastera, Miyagi, and Hovhaness. She has also made transcriptions (including one of Vivaldi's Four Seasons), commissioned new works, and has begun to compose in her own right. Among the composers who have written music for her are George Rochberg and Donald Erb. She is interested in contradicting the stereotyped idea of the harp as an "angelic," "heavenly," or "impressionistic" instrument; one of the movements of the sonata Erb wrote for her is called Dirty Rotten Scherzo.

Kondonassis has taught at the Cleveland Institute of Music and the Oberlin College Conservatory. She is married to Cleveland Orchestra trumpeter Michael Sachs (they have one daughter) and is the author of On Playing the Harp, a Comprehensive Guide to Harp Technique. She has been featured, among other venues beyond the traditional classical orbit, on one of the Tiny Desk Concerts presented by the U.S. National Public Radio network.

In the 21st century Kondonassis has, to a greater degree than most other players, attempted to communicate both with contemporary music aficionados and with crossover audiences. A series of releases on the Telarc label featured such titles as Music for a Perfect Day (2002) Breathe: The Relaxing Harp (2006), but the same label issued Never Far Away: Music of Bright Sheng, featuring music by that Chinese-born Midwestern American composer. In the 2010s, Kondonassis has recorded mostly for the innovative Cleveland-area label Azica and for a label associated with Oberlin College. In 2016 she issued Ginastera: One Hundred, an album commemorating the 100th anniversary of the birth of Argentine composer Alberto Ginastera, featuring that composer's Harp Concerto, Op. 25. Kondonassis is the author of Our House Is Round: A Kid's Book About Why Protecting the Earth Matters. ~ Joseph Stevenson, James Manheim
HOMETOWN

Norman, OK

GENRE

BORN

1965
50 million songs.
Zero ads.
New subscribers only. Plan automatically renews after trial.