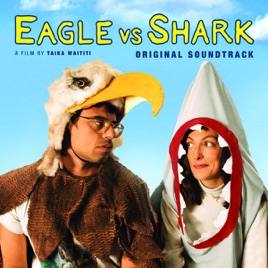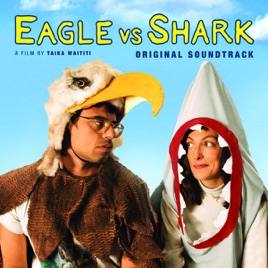 Eagle vs Shark (Original Soundtrack)
Various Artists
TITLE
TIME

The Happiest Man (Spoken Word)

Lily

0:50

I Love You, Awesome (Original Version)

The Phoenix Foundation

2:49

Blue Summer (Original Version)

The Phoenix Foundation

3:37
1:28

The Pool

The Reduction Agents

2:29

Apples and Tangerines (Original Version)

Lily

1:51

Mum and the Cow (Spoken Word)

Jarrod & Lily

0:19

Hitchcock

The Phoenix Foundation

3:27

I Don't Want (Original Version)

Age Pryor & The Marvellous Medicine

4:32

The Hill 1 (Original Version)

The Phoenix Foundation

0:49

Sea World

The Phoenix Foundation

3:39

Seaside (Original Version)

Luke Buda

3:08

Tomorrow (Spoken Word)

Jarrod, Lily & Mason

0:40

The Breakup / The Hill 2 (Original Version)

The Phoenix Foundation

3:26

Funny Shadow

Age Pryor & Tessa Rain

2:49

80's Celebration

The Reduction Agents

2:21

Justice Is Waiting (Spoken Word)

Jarrod

0:41

The Hill 3 (Original Version)

The Phoenix Foundation

0:53

Brain (Live At Helens)

The Phoenix Foundation

3:52

Wholly Molly (Original Version)

The Phoenix Foundation

2:09

Apples and Tangerines (Original Version)

The Phoenix Foundation

4:11

Do the Blues (Spoken Word)

Jarrod & Lily

0:43
5:06

This Is the One

The Stone Roses

5:01

Going Fishing

The Phoenix Foundation

4:56

Not So Hidden Track (Spoken Word)

Taika Waititi

2:53
26 Songs, 1 Hour, 8 Minutes

℗ 2007 Hollywood Records, Inc.
Customer Reviews
Twitchy, Awkward Music for Twitchy Awkward People
I stumbled across the trailer for this movie by accident one day and my life hasn't been the same since. I'd never heard of The Phoenix Foundation, but their contributions here are timeless -- the kinds of songs you hear and immediately identify with. The subtleties here are beautiful and the highs are unmatched in emotional intensity. The bits of dialogue between songs are also a nice change of pace, most notably "Justice is Waiting." The standout tracks here are the ones shown in the trailer (The Phoenix Foundation's "Blue Summer" and The Stone Roses' "This is the One") but the whole thing is thick with indie film goodness.
Incredible
This album is fantastic! It's really nice to hear something you don't hear everyday. If you like the sound of The Shins and Camera Obscura you'll like this soundtrack. It's also nice to have soundbites from the movie.

"Awesome..."
Awesome
I just saw this movie at the Las Vegas Film Festival. It was hilarious, the best movie at the festival.
This Sound Track is fabulous as well!