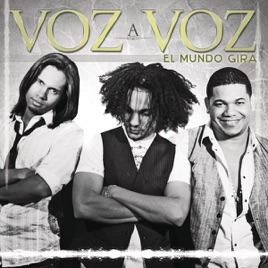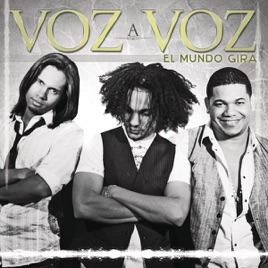 | | TITLE | | TIME |
| --- | --- | --- | --- |
| | | | 1:01 |
| | | | 4:02 |
| | | | 3:20 |
| | | | 4:12 |
| | | | 3:37 |
| | | | 3:09 |
| | | | 3:55 |
| | | | 4:02 |
| | | | 3:34 |
| | | | 3:18 |
| | | | 3:10 |
12 Songs, 37 Minutes
Released:

Oct 5, 2009

℗ 2009 ZMG
Ratings and Reviews
VOZ A VOZ
KNOWING THEM PERSONALLY THEY HAVE ACHIEVED A LOT. THIS CD IS GREAT AS MORE TO COME IN THE FUTURE. I LIVE THE SONGS THE MIXTURE OF GIO, DAVID AND RONNY. I LOVE YOU GUYS KEEP UP THE GOOD WORK,
"El Mundo Gira" -- Se lo recomiendo en alta VOZ
Esta produccion de Voz A Voz esta bien solida desde principio al fin. La adicion de Ronny Mercedes al grupo lo ha subido a un nivel superior. Junto con Ronny cantan Gio y David -- y sus 3 voces melodiosas tejen juntas en armonía perfecta.
La mejor cancion del disco es la que le da el titulo, "El Mundo Gira". Esta dulce balada comienza suavemente y con ternura y alcanza un poderoso punto culminante a los 2 minutos y 45 segundos cuando los 3 muchachos realmente nos demuestran el talento vocal de que son capaces. Increible cancion.
"Cuando en el Silencio" es la mejor Bachata del disco, y el que se queda sentado sin bailar es que no tiene piernas!
La cancion mas singular del album, en la cual Ronny, Gio, y David muestran su versatilidad, es "Me Duele Tanto". Esta cancion se trata de un hibrido vallenato-merengue, o sea, un "vallenaterengue". Te sentiras obligado cantar y moverse con las 3 voces cariñosas soplando, el acordión bailando, y el guira raspando.
Realmente el disco entero esta bien hecho, con todas las canciones sumamente escuchable y bailable. No esperes mas, Goza con Voz-A!!!!
FABULOSO C
A LA VERDAD QUE ESTOS CHICOS SE BOTARON CON UNA PRODUCCION MARAVILLOSA,LLENA DE MUCHO SENTIMIENTO.CON CANCIONES QUE TOCAN LAS FIBRAS MAS HONDAS DE TU CORAZON,FELICITO DE TODO CORAZON A RONNY,GIO Y DAVID POR PONER TODO SU ESFUERZO EN UNA REALIDAD,LOS QUIERO MUCHO,EXITO Y CUENTEN CON MI APOYO SIEMPRE
About Voz a Voz
Dominican pop-vocal group Voz a Voz is born of a world that most of their peers only try to emulate. Formed in Santo Domingo by three youths of poor economic class and single parent households, a fact which they are not shy about sharing, the young men that make up the vocal trio are Gilberto Cesar D'Oleo ("Gio"), Ammy Yatniel Acosta ("Ammy") and David Leonardo Rosario Pimentel ("David"). The trio was discovered performing in the Hotel Bavaro in Santo Domingo by a record producer from the Urban Box Office label. Inspired by the rhythms and melodies of their native island, the young men created a new "R&B" -- Rhythm and Bachata. They craft soulful, urban influenced three-part vocal arrangements in a style that is as much Dominican born as U.S. inspired. They have similarly crafted a new philosophy and direction for their group. Unlike many artists from similar backgrounds, Voz a Voz seeks the admiration of their audience before monitary gain. They have made a commitment to donate a significant portion of their earnings to benefit the poor and promote equal distribution of relief to people from underprivileged backgrounds like themselves. In addition, Urban Box Office has committed to donate a portion of sales from their debut CD, En Presencia del Futuro, to UNICEF. ~ Evan C. Gutierrez
ORIGIN

Santo Domingo, Dominican Republic

GENRE