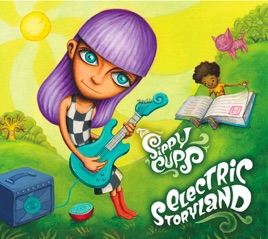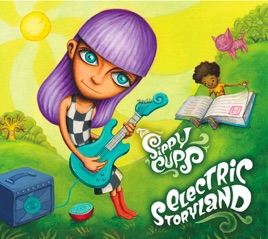 | | TITLE | | TIME |
| --- | --- | --- | --- |
| | | | |
| | | | |
| | | | |
| | | | |
| | | | |
| | | | |
| | | | |
| | | | |
| | | | |
| | | | |
| | Hair Professor and the Jellyfish | | |
| | | | |
| | | | |
| | | | |
| | | | |
| | | | |
| | | | |
17 Songs, 50 Minutes
Released:

Oct 10, 2006

℗ 2006 Snacker Disc
Ratings and Reviews
'Scuse Me While I Sip From The Sky
This is a delightful, powerful collection that both I and my daughters (who are 6 and 3 as I write this) enjoy dancing and even listening to. The band's mood on this album reflects a child's view of the world, where music for music's sake is sufficient. (Even as it recalls that same early innocence of the psychedelic 60's music scene.) Listen closely, rock fans, and you'll hear influences from the 60s through the 90s. (Not that your kids will care about that, but you'll find it amusing.)

While dealing ever so lightly with some of the critical issues facing preschoolers (examples of how to cheers one's parents in "Move Your Pants," and building self-confidence in "Use Your Words"), the Sippy Cups keep things both fun and moving. My daughters' current favorite is "Snail Song." My personal favorite is "Springtime Fantastic," a rave-up telling of a young girl's awakening to the Power of Love. (Give it a go, the thirty-second sample gives you the idea.)

My 6-year old has declared that the Sippy Cups are "the greatest band in the world." And I find that, for the three-to-eight crowd, I have to agree.
Kids' tunes for grown-ups, too...
Kids' music needs to be age-appropriate, meaning a healthy message, a pleasing sound, and songs that are fun to repeat and sing along. The repetition is what drives most parents nuts, especially if they have discerning musical tastes. Because how cute is Raffi the second or third time? What relevance does Disney have in the 21st century? And, speaking to my personal view of hell, why should anyone older than four have to hear "Free to Be You and Me"? Ever? Under any circumstances? So if you're a music-loving parent, you'll love "Electric Storyland!" by The Sippy Cups. It's a song collection obviously by parents who love to rock, can write good pop tunes, and share your tastes. From the opening title track with all the wide-eyed wonder of Todd Rundgren and Genesis, to the peaceful finale of "Time Out World," with the honest piano chords of Elton John or Ray Charles, this band takes your kids on a cool, fun, meaningful ride all over the musical map. There's the indie/acid rock of guitar-driven songs like "Drinking from the Sky," "Flower Tower," and "Springtime Fantastic" (a must-download!). There are rockers that scream audience participation, like the family-oriented "Move Your Pants" and "Little Puffer," a rockabilly train song that you can just hear X covering. And "The Jellyfish," a gentle love song to a bizarre sea creature, is a bit like Ween minus the snark factor. You might hear Yo La Tengo and Talking Heads in "Little House of Jello," or David Bowie and Chris Isaak in "I am a Robot," one of the very few dark songs that still feels good in the warm, parental touch of The Sippy Cups. Then there's the mother-child theme of "Magic Toast" subtly enhanced by the loopy psychedelia of early Pink Floyd, and the basic social mechanics lesson of the Rascals-inspired "Use Your Words." The teaching is way too fun to sound like preaching, and the underlying intelligence and subversive humor reflect how most progressive parents want to relate to their kids. Along with all the different songwriting styles, this band has enough singers to keep it truly varied, plus a few spoken word comedy bits that hint at a colorful stage show. Want to be a parent who sings along without irony or fear of losing your sanity? Play and repeat this CD endlessly.
Best kids' band!!
My son, who is almost 4, just LOVES the Sippy Cups. I do, too! They are one of the best kids' bands I've ever heard -- a really great mix of rock that grown-ups love as much as children. Their live shows are really incredible and not to be missed!! (They are based in San Francisco, but play live gigs all up and down the West Coast.) This is light years better than The Wiggles or Raffi. Download this today and you and your kids will be playing, humming, singing, dancing, and ROCKING for hours and hours of fun!
About The Sippy Cups
Establishing a connection between different generations via an imaginative, interactive show not unlike that of the Flaming Lips, the Sippy Cups play rock music for youngsters and their parents. The California-based group formed in 2004 around the talents of singer Paul Godwin (an early-childhood music teacher who composed scores for stage and film), entertainer Doug Nolan, guitarist Mark Verlander, singer Alison Faith Levy (ex-the Loud Family), bassist Rudy Trubitt, and drummer Jozef Becker (ex-Thin White Rope and the Loud Family). An EP of two singles, produced by Eric Drew Feldman (the Polyphonic Spree, PJ Harvey), was followed by the 2006 album Electric Storyland!, and the Sippy Cups widened their audience in 2007 by playing the kids' stage at Lollapalooza. Embellishing their shows with juggling, unicycling, and puppetry, they continued to attract fans into the following years, and 2009 saw them releasing a sophomore album titled The Time Machine. ~ Kenyon Hopkin
ORIGIN

San Francisco, CA

GENRE

FORMED

2004