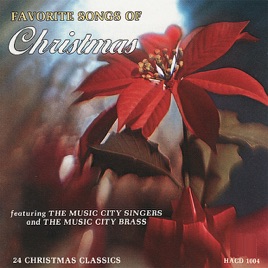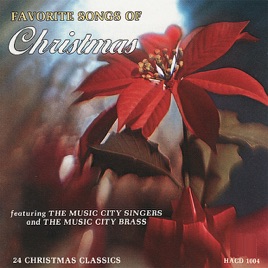 Favorite Songs of Christmas
TITLE
TIME
PRICE

Rudolf the Red Nosed Reindeer

The Music City Singers

1:53
$0.99

The Music City Singers

1:57
$0.99

The Music City Singers

2:05
$0.99

Santa Claus Is Coming to Town

The Music City Singers

2:18
$0.99

The Music City Singers

2:07
$0.99

I Saw Mommie Kissing Santa Claus

The Music City Singers

2:32
$0.99

The Music City Singers

2:02
$0.99

The Music City Singers

2:00
$0.99

What I Want for Chirstmas

The Music City Singers

3:16
$0.99

Rock Around the Christmas Tree (With Me)

The Music City Singers

2:14
$0.99

The Music City Singers

1:33
$0.99

The Music City Singers

1:45
$0.99

The Music City Brass

2:27
$0.99

The Music City Brass

2:47
$0.99

The Music City Brass

2:18
$0.99

Hark, the Herald Angels Sing

The Music City Brass

1:48
$0.99

The Music City Brass

1:59
$0.99

The Music City Brass

1:51
$0.99

O Little Town of Bethlehem

The Music City Brass

1:45
$0.99

The Music City Brass

2:13
$0.99

It Came Upon a Midnight Clear

The Music City Brass

2:17
$0.99

The Music City Brass

1:58
$0.99

God Rest Ye Merry Gentlemen

The Music City Brass

2:17
$0.99

We Wish You a Merry Christmas

The Music City Brass

2:14
$0.99
24 Songs

℗ 2009 Halo Records
Customer Reviews
Amateur effort, now dated and silly
I bought the vinyl version of this album from a dollar store about ten years ago. Even then it was clear that most of these recordings are of another era. Most of the "rock" efforts sounded like they were from about the mid-1960s. Some of the singing is a little flat-sounding, and the arrangement is pretty simple stuff. The audio quality definitely reflects the technical limitations of that era. I don't think the "Music City Singers" actually exist; the album cover credits one soloist and "various members of different studio background singing groups." The album has clearly been thrown together from a variety of sources.

In perusing the iTunes version, I see that some of the most dated tracks from my LP have been replaced. "Frosty the Snowman" and "Up On The Housetop" have been replaced with a very generic (but more professional sounding) 1980s versions, the hilariously terrible "All I Want For Christmas Is My Two Front Teeth" has been omitted entirely, and a few more bland contemporary tracks have been added. The brass stuff is all new too, but it sounds just as old as the original tracks.

That said, many of the old recordings have a quaint charm to them. They're interesting from a historical standpoint (this is the sort of low-priced media that once filled supermarket checkout isles and discount stores in days gone by). That doesn't make them a good listen. The newer stuff is all disposable pablum, though "Rocking Jingle Bells" is cheesy enough to cause a snicker.