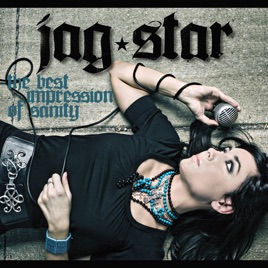 | | TITLE | | TIME |
| --- | --- | --- | --- |
| | | | 3:49 |
| | | | 3:24 |
| | | | 3:44 |
| | | | 3:04 |
| | | | 3:23 |
| | | | 3:32 |
| | | | 2:17 |
| | | | 2:31 |
| | | | 3:57 |
| | | | 3:10 |
| | | | 3:11 |
| | | | 3:09 |
| | | | 3:15 |
13 Songs, 42 Minutes
Released:

Jan 1, 2006

℗ 2012 Jag Star
Ratings and Reviews
Pop at its smartest...
Sarah's stainless-steel vocals comprise only one element of Jag Star's line of attack. The band's sound is pop at its smartest and most defiant, and any one of "Best Impressions" 13 polished gems, produced by recording guru Travis Wyrick (P.O.D., Pillar, 10 Years), could stand on its own as a single. They're radio friendly, but miles more lush than the paper-thin pop wafers that are prone to dominating Top 40. -- Leslie Wylie, music critic.
Lush production, solid performances...
There's a reason Sarah Lewis has dominated every songwriting competition from here to the other side of the Atlantic. Quite simply, she's THAT good. Want proof? Check out the new album, "The Best Impression Of Sanity." Lush production, solid performances, and 13 infectiously hook-laden songs admirably earn the title of... exquisite pop masterpiece. ---- John A. Sepetys, Sepetys Entertainment Group, Inc.
Rock on Jag Star!
I love the new album...it is "Something Different"! The album (The Best Impression of Sanity) is full of catchy pop tunes with a serious rock vibe! It is so hard for me to pick a favorite song from this album! I am partial to "Something Different" because it was the first song I heard from the album, but I also love "Does anybody Know", "Leavin" and "Disguise"! All the songs on this album rock! You do not have to be a fan to enjoy this music, but I can tell you that I recently saw a live Jag Star show and it is hard to not get hooked on them! Sarah's voice is so amazing! Buy this album :)
About Jag Star
Formed in the Knoxville, TN, summer heat of 1998, Jag Star is a rock group that consisted of electric and acoustic guitarist J. Robert Lewis, bassist Kenner Rawdon, violinist Erin Tipton, drummer Rafael Harris, and Sarah Lewis, who plays piano, mandolin, and servers as lead vocalist. She also happens to be J. Robert's wife. Jag Star has performed at clubs and fairs throughout the South, and began to earn a name for itself by competing in talent searches and battle-of-the-band type contests. In 2000 the band released its first album, appropriately titled The Beginning. Some of the eclectic rock- and pop-flavored tracks on the impressive recording are "Fade Away," "Better Girl," and "Gone Again." Shortly after the debut was completed, drummer Seamus Tierney, who has worked with artists like Letters to Cleo and Jewel, replaced Harris in the band's lineup. ~ Charlotte Dillon