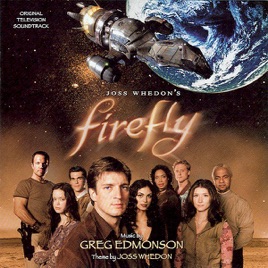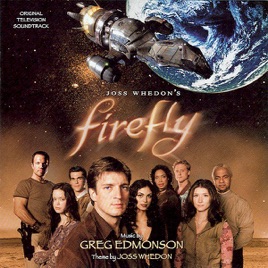 TITLE
TIME

River's Perception / Saffron

Mal Fights Niska / Back Home

Leaving / Caper /Spaceball

River's Afraid / Niska /Torture

In My Bunk / Jayne's Stature / Boom

Out of Gas / Empty Derelict

Book's Hair / Ready for Battle

Cows / New Dress /My Crew

Boarding the Serenity / Derelict

Burgess Kills / Captain & Ship

Greg Edmonson & Alan Steinberger

Saved /Isn't Home? / Reavers

Greg Edmonson & Alan Steinberger

Greg Edmonson & Alan Steinberger
25 Songs, 1 Hour
Released:

Jan 9, 2007

℗ 2007 Fox Music
Ratings and Reviews
Not just shiny, we're talking nova
This is a compilation of background / mood music from the lamentably short-lived series. It runs an amazing gamut of styles: Irish folk ("River's Dance"), Romantic ("The Funeral"), classical Chinese opera ("Inara's Suite"), Django Reinhardt jazz ("Boarding the Serenity"), piano sonatas ("Inside the Tam House"), old timey banjo bluegrass ("Cows") and many pieces that defy catagorization.

It doesn't matter if you are a fan of the show or not. If you have an ecclectic taste in music, if you like to be surprised and delighted by the fusion of different styles, this album is definitely for you.
Sci-Fi/Western...who'd'a thunk?
And yet, that's what we have here: An awesome soundtrack to a TV show that was, at its heart, a genre mish-mash. And it works. Sometimes the music has a decidedly sci-fi feel, other times it leans more towards Western themes, and even towards Chinese instruments. Of course, the soundtrack is only one part of what makes this show so great, but it's an important part. Any Firefly fan must pick this up. And if you're not, get the TV show on iTunes, then get the soundtrack. You'll be glad you did.
Fantastic!
I adore Firefly. Everything in the show is well done, from the plots to the music. I highly recommend this soundtrack, even if you don't know what Firefly is! (My only regret is they don't have Jayne's 'Hero of Canton' song.) The music itself is a mix of old west and Asian, using violins, twangy guitars, and shamisans to produce beautifully sad or upbeat music that manages to bring a smile to your face. So, please, check this CD out! And, if you like it, make sure to check out Firefly too.