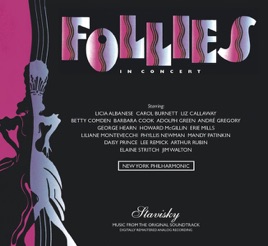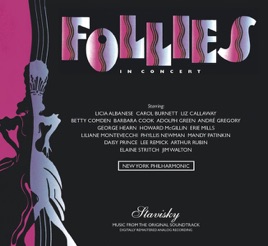 TITLE
TIME

Paul Gemignani & New York Philharmonic

Follies Ensemble (1985) & Arthur Rubin

George Hearn & Barbara Cook

Waiting for the Girls Upstairs

Mandy Patinkin, Barbara Cook, Jim Walton, Howard McGillin, Lee Remick, Daisy Prince, George Hearn & Liz Callaway

Betty Comden & Adolph Green

Phyllis Newman, Elaine Stritch, Betty Comden, Liliane Montevecchi, Barbara Cook, Follies Ensemble (1985) & Lee Remick

Barbara Cook & George Hearn

Erie Mills & Licia Albanese

You're Gonna Love Tomorrow / Love Will See Us Through

Jim Walton, Liz Callaway, Howard McGillin & Daisy Prince

The Story of Lucy and Jessie

Follies Ensemble (1985) & Lee Remick

Follies Ensemble (1985) & George Hearn

Finale: Waiting for the Girls Upstairs (Reprise) / Beautiful Girls (Reprise)

Follies Ensemble (1985)

Stavisky Orchestra, Jacques Mercier & Carlo Savina

Stavisky Orchestra, Jacques Mercier & Carlo Savina

Stavisky Orchestra, Jacques Mercier & Carlo Savina

Stavisky Orchestra, Jacques Mercier & Carlo Savina

Stavisky Orchestra, Jacques Mercier & Carlo Savina

Stavisky Orchestra, Jacques Mercier & Carlo Savina

Stavisky Orchestra, Jacques Mercier & Carlo Savina

Stavisky Orchestra, Jacques Mercier & Carlo Savina

Stavisky Orchestra, Jacques Mercier & Carlo Savina

Jacques Mercier, Stavisky Orchestra & Carlo Savina

Stavisky Orchestra, Jacques Mercier & Carlo Savina

Stavisky Orchestra, Jacques Mercier & Carlo Savina

Stavisky Orchestra, Jacques Mercier & Carlo Savina

Stavisky Orchestra, Jacques Mercier & Carlo Savina

Stavisky Orchestra, Jacques Mercier & Carlo Savina

Stavisky Orchestra, Jacques Mercier & Carlo Savina

Stavisky Orchestra, Jacques Mercier & Carlo Savina

Stavisky Orchestra, Jacques Mercier & Carlo Savina

Stavisky Orchestra, Jacques Mercier & Carlo Savina

Stavisky Orchestra, Jacques Mercier & Carlo Savina

Stavisky Orchestra, Jacques Mercier & Carlo Savina

Stavisky Orchestra, Jacques Mercier & Carlo Savina

Stavisky Orchestra, Jacques Mercier & Carlo Savina

Stavisky Orchestra, Jacques Mercier & Carlo Savina
46 Songs, 2 Hours 9 Minutes
Released:

Dec 23, 1985

℗ 1985 BMG Music
Ratings and Reviews
Great concert, lousy metadata
The concert performance of Follies was a truly awesome event, and this remains the definitive cast recording of that show. The "Stavisky" filler wasn't necessary, but that's okay.

But iTunes, like all other downloadable music vendors, needs to crack down on poor tagging. I sometimes think that vendors and/or record companies employ untrained marmots to enter the tags—and cast albums are universally the worst. In the case of this album, there are tracks which fail to credit half or more of the performers (and no indication, like "ensemble", that there are others not named), and one track is credited to a completely incorrect performer (Elaine Stritch does not perform "One More Kiss"—the very idea grates like fingernails on a chalkboard, as her voice is thoroughly unsuited for that song). These are errors that can be made only by complete carelessness. And there's really no need to credit the musical director (Paul Gemignani) as a performer on every track.

So whenever I get a cast album from iTunes, or any other downloadable vendor, I have to spend time going through fixing tags. Okay, maybe some people really don't care. But most people I know who collect cast albums very much do care.

Spread the word. Every time you buy a downloadable cast album and the tags are messed up, post a review to complain. The problem won't get fixed if they don't know we care.
5 stars for the album, 0 stars for iTunes
When it comes to album and cast listings, iTunes is pathetic.

In this case, this is NOT a soundtrack album. This was a staged concert, the music from which was too large for one CD so it was pushed to two CD's and the music from the film "Stavisky" was added as a "bonus" (really a filler!).

The music itself is brilliant, and the performances are stunning. This is the only good version of the music from Follies. The original cast album was abridged to fit on one vinyl LP. Songs were shortened (and recorded that way, so there isn't anything to "restore"). Some were cut.

Listen to this one and enjoy!
Worth it all
When you listen to Salon at Claridge #1 and #2 you will say I must have in my collection! Magnificent! Thank you Steven!