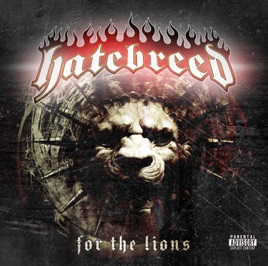 EDITORS' NOTES
Hatebreed's For the Lions takes on various metal subgenres by covering songs from bands such as Slayer, Sepultura and of course Metallica. Opening with "Ghosts of War," Hatebreed give the South of Heaven-era Slayer number a tune-up; everything sounds bigger and newer, and though frontman Jamey Jasta's guttural growls are as impressive as they are intimidating, Tom Araya's post-adolescent sneering vocal seethe remains the more evil sounding of the two. Hatebreed's update of Metallica's "Escape" puts more doom and gloom in the mix, while that instantly catchy chorus sounds like someone brought a vocoder into the studio. But the punk covers here sound noticeably fiercer and tighter, especially when taking on a punch-throwing rendition of their namesake with the Misfits' "Hatebreeders" and a blood-spitting version of Black Flag's "Thirsty & Miserable." The bonus track version offers up two videos and a behind-the-scenes making-of "Ghosts of War."
EDITORS' NOTES
Hatebreed's For the Lions takes on various metal subgenres by covering songs from bands such as Slayer, Sepultura and of course Metallica. Opening with "Ghosts of War," Hatebreed give the South of Heaven-era Slayer number a tune-up; everything sounds bigger and newer, and though frontman Jamey Jasta's guttural growls are as impressive as they are intimidating, Tom Araya's post-adolescent sneering vocal seethe remains the more evil sounding of the two. Hatebreed's update of Metallica's "Escape" puts more doom and gloom in the mix, while that instantly catchy chorus sounds like someone brought a vocoder into the studio. But the punk covers here sound noticeably fiercer and tighter, especially when taking on a punch-throwing rendition of their namesake with the Misfits' "Hatebreeders" and a blood-spitting version of Black Flag's "Thirsty & Miserable." The bonus track version offers up two videos and a behind-the-scenes making-of "Ghosts of War."
| | TITLE | | TIME |
| --- | --- | --- | --- |
| | | | |
| | | | |
| | | | |
| | | | |
| | | | |
| | | | |
| | | | |
| | | | |
| | | | |
| | | | |
| | | | |
| | | | |
| | | | |
| | | | |
| | | | |
| | | | |
| | | | |
| | | | |
| 19 | Ghosts of War (Bonus Track ) | | |
| 20 | Ghosts of War (Behind the Scenes) | | |
| 21 | Thirsty & Miserable (Bonus Track ) | | |
21 Songs, 1 Hour
Released:

May 5, 2009

℗ 2009 E1 Music
Ratings and Reviews
Excellent.....guys congratulations forever
Honestly I do not see the hour in the arrived the 5 May from the buy album that are best of the best in hardcore music, the cd is excellent.......... is a honor for all cover the bands, I great fan of hatebreed, the album is a successes, positives blessings guys and they are really the best thing.................YEAAAAAAAAHHHHHHHH HATEBREED.

Manuel Natera, Valencia - Venezuela.
AMAZING!!!!!!!
another amazing album by the bestest band ever!!!!!!!
Very good work, worth the wait
This album has been long awaited by the hardcore fans and just metal fans in general. When I noticed it came out I was able to tell who each of the bands covered were. My only dissapointment won't be in the band, it will be in the fans who buy this album and think this is an all-original Hatebreed album. Very good covers, it is worth buying.
About Hatebreed
The New Haven, Connecticut-based Hatebreed got together in 1993 for the purpose of creating a "back to basics" hardcore band with heavy metallic guitars, screaming vocals, and 30-second songs. Consisting of Jamey Jasta (vocals), Lou "Boulder" Richards (guitar), Chris Beattie (bass), Sean Martin (guitar), and Rigg Ross (drums), Hatebreed had the chance to play throughout the East Coast while sharing the stage with the likes of Entombed, the Deftones, Slayer, and Napalm Death. By 1997, Victory Records released the quintet's debut full-length, entitled Satisfaction Is the Death of Desire. The group signed with Stillborn/Republic/Universal for 2002's Perseverance and 2003's Rise of Brutality. Supremacy arrived on Roadrunner Records in 2006, featuring new guitarist Frank Novinec (who'd previously spent time playing with Ringworm, Terror, and Integrity). Guitarist Wayne Lozinak joined the band in 2008. The band released For the Lions, a covers album, in May of 2009, followed by a new self-titled studio album in September. The group's sixth studio outing, The Divinity of Purpose, dropped in 2013 and peaked at the number 20 slot on Billboard's Top 200 albums of the year, and number one on the Hard Rock albums chart. The band spent the next few years on the road before heading back into the studio for album number seven. The resulting Concrete Confessional dropped via Nuclear Blast in May 2016, and was followed by an ambitious world tour. ~ Mike DaRonco
ORIGIN

New Haven, CT

GENRE

FORMED

1993