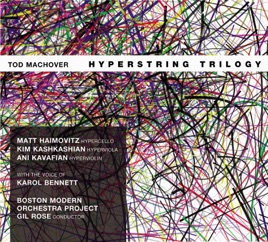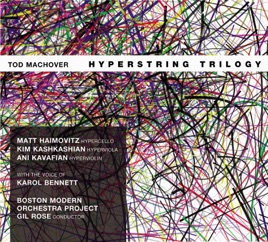 | | TITLE | | TIME |
| --- | --- | --- | --- |
| | Begin Again Again...for Hypercello Solo - I. Intro | | 1:28 |
| | Begin Again Again...for Hypercello Solo - II. Delicate and Varied | | 2:22 |
| | Begin Again Again...for Hypercello Solo - III. Energetic | | 2:51 |
| | Begin Again Again...for Hypercello Solo - IV. Emphatic - Warm and Singing | | 2:42 |
| | Begin Again Again...for Hypercello Solo - V. Very Rapid and Precise | | 1:17 |
| | Begin Again Again...for Hypercello Solo - VI. Timbre Dream | | 2:29 |
| | Begin Again Again...for Hypercello Solo - VII. Lyrical and Intimate | | 0:49 |
| | Begin Again Again...for Hypercello Solo - VIII. Fluttering - Interior | | 2:23 |
| | Begin Again Again...for Hypercello Solo - IX. Growing - Majestic | | 0:57 |
| | Begin Again Again...for Hypercello Solo - X. Broad - Intense | | 1:07 |
| | Begin Again Again...for Hypercello Solo - XI. Coda: Powerful and Steady | | 2:32 |
| | Song Of Penance for Hyperviola, Computer Voice, and 17 instruments - I. Intense | | 1:15 |
| | Song Of Penance for Hyperviola, Computer Voice, and 17 instruments - II. Reflective | | 7:53 |
| | Song Of Penance for Hyperviola, Computer Voice, and 17 instruments - III. Resolute | | 3:15 |
| | Song Of Penance for Hyperviola, Computer Voice, and 17 instruments - IV. Buoyant | | 2:12 |
| | Song Of Penance for Hyperviola, Computer Voice, and 17 instruments - V. Coda: Full and Sweet | | 1:41 |
| | Forever And Ever for Hyperviolin and Chamber Orchestrra - I. Intro | | 0:57 |
| | Forever And Ever for Hyperviolin and Chamber Orchestrra - II. Gently Flowing | | 9:39 |
| | Forever And Ever for Hyperviolin and Chamber Orchestrra - III. Calm | | 4:31 |
| | Forever And Ever for Hyperviolin and Chamber Orchestrra - IV. Jaunty and Light | | 9:05 |
| | Forever And Ever for Hyperviolin and Chamber Orchestrra - V. Coda: Joyous | | 3:09 |
21 Songs, 1 Hour, 4 Minutes
Released:

Apr 4, 2006

℗ 2006 Oxingale Productions
About Ani Kavafian
Ani Kavafian is one of the most respected of American violinists, particularly in the field of chamber music and in the more modern repertory. Her father was born in Bulgaria to the family of an Armenian refugee from the notorious suppression of the Armenians by the Ottoman Empire in 1914 and 1915. Her father, in turn, left Bulgaria, fleeing the Communist government there and settling in Turkey. Her father was the principal violist of the Istanbul State Symphony Orchestra, where he met Ani's mother, a member of the first violin section.

Ani recalls that there was no particular anti-Armenian sentiment in Istanbul when she was a young girl, but that it reappeared during anti-Greek riots that broke out in 1956 over the issue of independence of Cyprus. The Kavafian family left Turkey and settled in suburban Detroit.

By then, Ani's younger sister Ida had been born (October 29, 1952). Ani had a strong interest in learning piano and studied that instrument, but recalled that she used to always put her ear against the door to her mother's practice room just so she could hear the violin. Beginning in 1957, the two girls began taking violin lessons from Ara Zerounian and later from Mischa Mischakoff. Ani recalls Mischakoff as a tough teacher who particularly stressed accuracy of intonation. Once, she says, he took her violin, untuned the strings, played her music perfectly in tune, then handed it to her and demanded she do the same: "No excuses! No matter what your open strings are doing you should be able to adjust."

In 1966, she went to New York to enter the Juilliard School, where she studied with Ivan Galamian.

Sister Ida followed the same career path, arriving at Juilliard in 1969, and the two have frequently performed together in various forms of chamber music. Ani made her debut that year at Carnegie Recital Hall. Her European debut was in Paris in 1973.

She and Ida have both established leading violin careers. Ani toured widely in the 1970s, appearing with the world's leading orchestras. She joined the faculties of the Manhattan School of Music and Mannes College of Music in the 1980s.

In 1979, she joined the Chamber Music Society of Lincoln Center. She became the senior member of that organization (which later also included Ida). Although she loves the standard repertory (particularly the Mozart, Brahms, and Mendelssohn concertos), Ani is best known for 20th century music. She has premiered Henri Lazarof's Concerto for violin and string orchestra and Tod Machover's Concerto for hyper violin and orchestra (using a violin as input to a computer to produce extended sounds).

She is married to Bernard Mindich, an artist. Their son, Matthew, is a promising cello student. Ani Kavafian owns the 1736 instrument known as the Muir-Mackenzie Stradivarius.
45 million songs.
Three months on us.
New subscribers only. Plan automatically renews after trial.