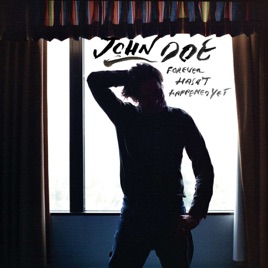 | | TITLE | | TIME |
| --- | --- | --- | --- |
| | Dave Alvin, Grant-Lee Phillips & John Doe | | |
| | Dave Alvin, Grant-Lee Phillips & John Doe | | |
| | Grant-Lee Phillips, John Doe & Veronica Jane | | |
| | | | |
| | | | |
| | | | |
| | John Doe & Cindy Lee Berryhill | | |
| | | | |
| | | | |
| | | | |
| | John Doe & Cindy Lee Berryhill | | |
11 Songs, 31 Minutes
Released:

Mar 22, 2005

℗ 2005 Yep Roc Records
Ratings and Reviews
Best Solo Yet
I have heard all the solo John Doe, but none has been as satisfying as this. The review is correct: we all like Doe, but the previous solo efforts have not been that solid. This is a great album that I keep playing. Also check out the new Knitters if you are a John Doe/Knitters/X fan like me.
Forever is Now
Forever Hasn't Happened Yet, the new John Doe solo album, is one of the finest albums I have heard this decade. Although I enjoyed X years ago, I frankly hadn't paid *any* attention to Doe's solo efforts until I stumbled across this album on the Net a few weeks ago. I am completely mesmerized by the superb songwriting and the brilliant vocal performances by Doe & his family & friends on this album. I am eager to see him in concert in San Francisco. The first song, The Losing Kind, is a mindblower of spareness and power - the kind of troubadour song you see Springsteen reach for but rarely achieve. And then when you hear Twin Brother, There's a Black Horse and Ready, you realize Doe is an underrecognized genius. He deserves his due. Check it out and tell your friends.
My Hero!
Play Hwy 5 and Twin Brother a few times and you will realize what John's all about. Dim Stars, Bright Sky was 2003's best album and I have never quite gotten over "Far Away", "7 Holes" and my all time favorite X/JD tune "Forever for You." Too bad iTunes doesn't hold Dim Stars but "Forever Hasn't Happened Yet" is a great start! Thanks John for 20 Years of unbelievable memories!
About John Doe
As one of the founding members of the Los Angeles punk band X, John Doe was one of the most influential figures in American alternative rock during the early '80s, but when he launched a solo career in the early '90s, he decided to pursue a rootsy, country-rock direction instead of continuing with punk. X's latter-day albums exhibited a rockabilly and country influence, but it wasn't until Doe's 1990 debut, Meet John Doe, that he recorded a pure country album.

Meet John Doe was recorded during a hiatus in X's career. Following the release of the 1988 live album Live at the Whisky a Go-Go, the bandmembers temporarily parted ways. Initially, Doe concentrated on the acting career he began in 1986 with Oliver Stone's Salvador, appearing in Road House and the Jerry Lee Lewis biopic Great Balls of Fire in 1989. The following year, Meet John Doe was released on DGC to positive reviews, yet it didn't appeal to an audience outside of X's cult, peaking at 193 on the pop charts. Later in 1992, X began playing live again and Doe's solo musical career went on hiatus, although he continued to act in movies like Pure Country, Liquid Dreams, Roadside Prophets, Wyatt Earp, and Georgia.

Following X's 1993 reunion album, Hey Zeus!, Doe signed a solo contract with Rhino/Forward. In summer 1995, Doe released Kissingsohard, a harder and punkier album than his debut. A few months after its release, X released the live semi-acoustic set Unclogged, which would turn out to be their final album. The band split up a year later, but their original lineup (with Billy Zoom on guitar) reunited for a series of live shows in 1998 and toured periodically. Doe continued to focus on his solo career when not occupied with X or his acting career: Freedom Is... was released by the SpinArt label in 2000, the semi-acoustic Dim Stars, Bright Sky appeared on Artist Direct in 2002, and the subtle but aggressive Forever Hasn't Happened Yet arrived via Yep Roc in 2005. It was that same label that reissued Doe's 1998 KRS EP For the Rest of Us under the name For the Best of Us, the new version containing five additional songs that had been recorded during the same sessions.

Doe stayed with Yep Roc for his next two albums as well, 2007's A Year in the Wilderness and 2009's Country Club, where he was co-billed with Canadian roots band the Sadies. A new solo album, Keeper, recorded at the Way Station and New Monkey studios in Los Angeles and featuring guest appearances from Patty Griffin, Jill Sobule, Smokey Hormel, Don Was, and Howe Gelb, appeared in 2011. The album featured the rocking leadoff single "Never Enough." In 2012, Doe teamed up with his X harmony partner (and ex-wife) Exene Cervenka for Singing and Playing, a low-key album featuring new songs as well as interpretations of favorites from the X catalog. In 2014 Yep Roc released The Best of John Doe This Far, a collection of highlights from his solo career. In the spring of 2016 Doe found himself looking back and looking forward; he released a new solo album, The Westerner, while also publishing a memoir. The book Under the Big Black Sun: A Personal History of LA Punk offered an inside look at the scene that produced X, with contributions from a number of his musical peers. ~ Stephen Thomas Erlewine
HOMETOWN

Decatur, IL

GENRE

BORN

February 25, 1954