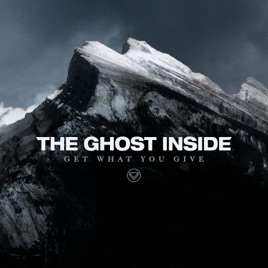 EDITORS' NOTES
With its third studio album (and its first for Epitaph Records), the Los Angeles metalcore quintet The Ghost Inside gets an upgrade in production and a noticeably beefier brawn to its already-muscled music. Singer Jonathan Vigil comes out swinging on the one-two punch opener, "This Is What I Know About Sacrifice." It's a minute and 29 seconds long, wherein he howls: "I'll see you at the crossroads!" The following "Outlive" erupts with a rhythm section that sounds like a stampede of elephants rushing a minefield. Vigil's throat-shredding bellows get even more serious, but that's in part what helped the band inadvertently forge a hardcore subgenre that's jokingly called "srscore." The introduction of "Engine 45" boasts great guitar work by guitarist Aaron Brooks, who dynamically shifts from face-punching chug-riffs to ascending arpeggios in a heartbeat. Brooks also handles the unscreamed vocals throughout Get What You Give, adding a boyish tone and a dynamic contrast to Vigil's blistering esophagus destruction. The Ghost Inside improves on Linkin Park's balance of melody and chaos in the outstanding "Face Value."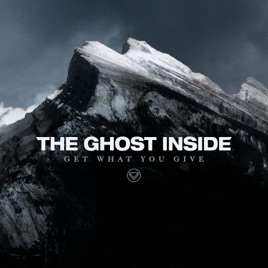 EDITORS' NOTES
With its third studio album (and its first for Epitaph Records), the Los Angeles metalcore quintet The Ghost Inside gets an upgrade in production and a noticeably beefier brawn to its already-muscled music. Singer Jonathan Vigil comes out swinging on the one-two punch opener, "This Is What I Know About Sacrifice." It's a minute and 29 seconds long, wherein he howls: "I'll see you at the crossroads!" The following "Outlive" erupts with a rhythm section that sounds like a stampede of elephants rushing a minefield. Vigil's throat-shredding bellows get even more serious, but that's in part what helped the band inadvertently forge a hardcore subgenre that's jokingly called "srscore." The introduction of "Engine 45" boasts great guitar work by guitarist Aaron Brooks, who dynamically shifts from face-punching chug-riffs to ascending arpeggios in a heartbeat. Brooks also handles the unscreamed vocals throughout Get What You Give, adding a boyish tone and a dynamic contrast to Vigil's blistering esophagus destruction. The Ghost Inside improves on Linkin Park's balance of melody and chaos in the outstanding "Face Value."
| | TITLE | TIME | PRICE |
| --- | --- | --- | --- |
| | This Is What I Know About Sacrifice | 1:29 | $1.29 |
| | | 2:35 | $1.29 |
| | | 4:12 | $1.29 |
| | | 3:13 | $1.29 |
| | | 3:10 | $1.29 |
| | | 3:20 | $1.29 |
| | | 4:50 | $1.29 |
| | | 3:07 | $1.29 |
| | | 3:50 | $1.29 |
| | | 3:07 | $1.29 |
| | | 4:18 | $1.29 |
Customer Reviews
Best album of 2012 so far...
This album delivers everything! Strong lyrics filled with emotion and hard hitting breakdowns. This is TGI at their best! The clean vocals really add to their sound. Every song is amazing, my personal favorites are Dark Horse, The Great Unknown, and White Light. White. The heaviest songs would have to be Outlive and Deceiver. I don't see any bands outdoing TGI this year!
Like it A Lot
TGI continues to display their signature hardcore style on their third release. I feel they've incorporated elements heard on their first album, which I was happy about. There also using cleans in select parts now. It works for them, but could be less repetitive. Lyrics are great. Breakdowns are greater :)

8/10. My favorite song is Slipping Away.
About The Ghost Inside
Los Angeles, California-based metalcore outfit the Ghost Inside formed in 2006 under the moniker A Dying Dream. They released one EP, Now or Never, before changing their name and unleashing their debut full-length, 2008's well-received Fury and the Fallen Ones. Hard-hitting, passionate, and fueled by the kinetic riffing and thunderous breakdowns that have become synonymous with the genre, the Ghost Inside began to hit their stride on 2010's Returners, spending more and more time on the road honing their skills and sharing the stage with the likes of Devil Wears Prada, Bring Me the Horizon, and Parkway Drive. The band's third studio outing, Get What You Give, arrived in 2012 on the Epitaph label, and was produced by A Day to Remember's Jeremy McKinnon. The Ghost Inside's fourth studio long-player, Dear Youth, arrived in November 2014. ~ James Christopher Monger
Top Songs by The Ghost Inside
See All
Top Albums by The Ghost Inside
See All
Top Music Videos by The Ghost Inside
See All