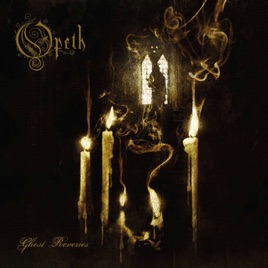 | | TITLE | TIME | PRICE |
| --- | --- | --- | --- |
| | | 10:29 | Album Only |
| | | 10:41 | Album Only |
| | | 7:57 | $1.29 |
| | | 6:28 | $1.29 |
| | Reverie / Harlequin Forest | 11:39 | Album Only |
| | | 5:20 | $1.29 |
| | | 10:21 | Album Only |
| | | 3:51 | $1.29 |
8 Songs

℗ 2005 The All Blacks B.V.
Customer Reviews
Unbelievable
Seeing as people on average read the first 2 sentences of a review, I'm going to Tarintino my review and give you the verdict first and then justify it. Throw out what you know about metal because this is one of the best rock albums I've ever heard, buy it now. If you are familiar with Opeth, you know how good this band really is. You know all about the intricate rhythms, musical layering and the ingenious song structure. You know about the subtle nuances that keep you from pressing the >>I on your iPod that make rewind the song asking yourself, "how is that even possible?" However, this is not a review for an Opeth fan because if you know this band at all, you already own the album For those unfortuante souls who are not familiar with the band, do not be fooled when you see websites classifying Opeth under "Progressive Metal" or "Death Metal" because Opeth has mixed in elements from progressive rock, metal, jazz, folk, and their untouchable Acoustic work. What this makes for is an exceptionally diverse and interesting listen. I am not exagerating when I say that there is something for "everybody" here. Faithful metal listeners, no matter what genre you have previously listened to, you will find something refreshing here. If you are just starting off in metal, this isn't a bad place to start. I feel that when I give an album a 5 star rating, it has to be part of a full package. This album delivers, because while the individual songs hold their own against a sea of average that just spat out another linkin park record, the album as a whole just clicks and creates something greater that any individual song could ever hope to achieve. The bottom line is, throw out your preconcieved notions of metal and give this album a listen. Skeptics will be turned into believers and faithful followers will have solid justification. Opeth hasn't sold out, they've only made themselves stronger
The Record/Band all others are measured against
This was the first Opeth album I purchased. It took me better than three months to actually get into it, the growling vocals put me off right away. I'm an older fan (38 yo. now), who loves the old Genesis, Jethro Tull, Yes, Marillion, etc. and now this is the band to measure every other progressive band against (including Dream Theater and Porcupine Tree) and I couldn't imagine the songs without the growling. Simply brilliant, the most original forward thinking music of our day (I thought music was dead). And while I don't consider myself a fan of hardcore, the talent of this band is undeniable. I now own all of their albums, but this is still my favorite. Buy it, let it sink in, and enjoy....that is what it is here for.
About Opeth
Brought together in Stockholm by guitarists Peter Lindgren and Mikael Åkerfeldt in 1990, Opeth added progressive influences and acoustic instrumentation to their brand of Swedish death metal. As the group progressed, it was very common for an Opeth live set to fly in several different musical directions -- and an average song lasted no less than ten minutes. Impressed by their originality, Candlelight Records released their debut full-length in 1995, which was titled Orchid, and featured a rhythm section of bassist Johan de Farfalla and drummer Anders Nordin. Edge of Sanity mastermind Dan Swano produced the band's ambitious second album, Morningrise, in 1996, after which they embarked on a brief tour with Morbid Angel. Century Media took notice and not only licensed Opeth's first two albums for the United States, but also planned on releasing their next album on both sides of the Atlantic. With the recruitment of bassist Martin Mendez and drummer Martin Lopez (ex-Amon Amarth) to replace the departed de Farfalla and Nordin, Opeth's third album, My Arms, Your Hearse, was released in 1998 to glowing reviews, establishing the band as a leading force in progressive metal with death roots.

Released in 1999, Still Life displayed even more of the band's prog rock influences, and the following year the band played its first U.S. concert at the Milwaukee Metalfest. Blackwater Park, titled after an obscure psychedelic prog outfit from the '70s, was released in early 2001. The album created a huge buzz among progressive metal fans, who had begun to lump the band in with other experimental metal bands like Tiamat. Instead of waiting until the buzz died down, the band released Deliverance in the fall of 2002. The following year, Opeth surprised fans with the release of Damnation, an album that was almost completely devoid of any heavy metal trappings and focused instead on acoustic instruments and traditional songwriting. Ghost Reveries arrived in 2005 and proved to be a return to form for the band. Opeth returned in 2007 with Roundhouse Tapes: Opeth Live, and in 2008 with the all-new studio album Watershed. In 2010, the band followed up with another live album, In Live Concert at the Royal Albert Hall. The set was recorded at the famous London venue and featured the band playing its breakout album, Blackwater Park, in its entirety.

Opeth shifted stylistic gears dramatically for 2011's Heritage. While writing for the album, Åkerfeldt fell under the spell of the music of Swedish folk music, Alice Cooper, and many spaces between. The sound, while remaining Opeth's, was also quite different, far more prog than death metal. In fact, if anything, it was the sound of the band leaving death metal behind. The album's cover was loaded with symbolism depicting the change. Heritage was also the last Opeth recording to feature keyboardist Per Wiberg. The album was released in September on Roadrunner. The new musical direction displayed on Heritage was the origin for the next chapter in the band's musical evolution. After a global tour and a long rest, the band returned to recording in Sweden with mixing engineer Steven Wilson. Pale Communion, released in August of 2014, signaled the band's complete embrace of prog rock. Opeth signed to Nuclear Blast in June of 2016 and announced a new album titled Sorceress with the release of a teaser video. In July, they issued the first of eight YouTube webisodes, revealing that the album had been recorded in 12 days at Rockfield Studios in Wales -- the same location where the band cut Pale Communion. Sorceress was released at the end of September in the middle of their American tour. ~ Mike DaRonco & Thom Jurek
ORIGIN

Stockholm, Sweden

FORMED

1990