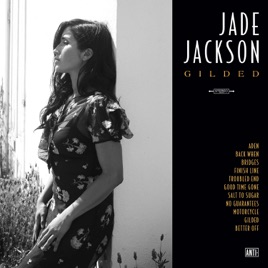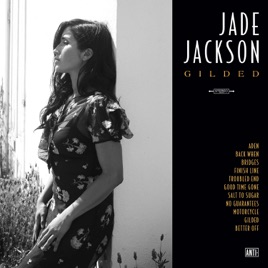 | | TITLE | TIME | PRICE |
| --- | --- | --- | --- |
| | | 3:47 | $1.29 |
| | | 3:38 | $1.29 |
| | | 3:59 | $1.29 |
| | | 4:03 | $1.29 |
| | | 3:41 | $1.29 |
| | | 3:56 | $1.29 |
| | | 3:08 | $1.29 |
| | | 4:23 | $1.29 |
| | | 3:06 | $1.29 |
| | | 4:06 | $1.29 |
| | | 2:39 | $1.29 |
Customer Reviews
Way to go cousin !!!!!
Jade Jackson is my cousin!!! I'm so proud of her!! I love my cousin a lot and I look up to her. I'm happy for her. My favorite song from her is called "wait for me". I hope to see you soon cousin!! You are truly a blessing to the family.💖
Can't wait
All of Jade's music is wonderful. I can't wait to hear her new album.
About Jade Jackson
Country singer/songwriter Jade Jackson began composing songs at a young age. She grew up in Santa Margarita, California, where her parents owned a restaurant. Both her parents were keen music fans, and Jackson grew up on a diverse diet of Johnny Cash, Hank Williams, the Cure, and the Smiths. In between waitressing at the family business, the young Jackson began to write songs at the age of 13, and played her first live show the following year. By the time she left high school she had a collection of over 300 original compositions. No doubt her prolific output was aided by the fact that she grew up in a household that was free of television and computers, and therefore distraction. After high school she was accepted in the music program at the prestigious Cal Arts College, just outside of Los Angeles. The budding singer/songwriter secured herself a regular slot at a local coffee shop, and it was during one of those shows that the wife and son of Social Distortion's Mike Ness were so taken with her performance that it led to a working relationship with the frontman. Becoming somewhat of a mentor to Jackson, he agreed to produce her first record, and invited her to support Social Distortion on tour. In 2017, Jackson signed to Anti-. Gilded, her label debut, was chock-full of melancholy tales and echoed artists such as Lucinda Williams and Emmylou Harris. ~ Bekki Bemrose
ORIGIN

Santa Margarita, California
Top Music Videos by Jade Jackson
See All