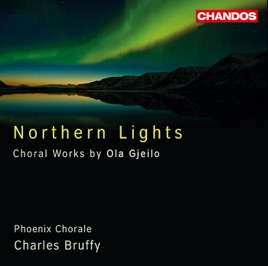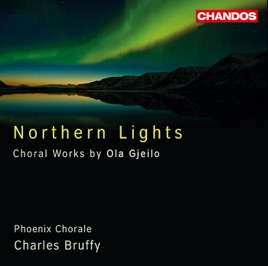 TITLE
TIME

The Ground, "Ple ni sunt caeli et terra gloria tua"

By Ola Gjeilo & Mass Text - Ola Gjeilo, Harrington String Quartet, Charles Bruffy & Phoenix Chorale

Serenity, "O magnum mysterium"

Phoenix Chorale, Charles Bruffy & Emmanuel Lopez

Phoenix Chorale & Charles Bruffy

Northern Lights, "Pulchra es, amica mea"

By Ola Gjeilo & Bible - Old Testament - Charles Bruffy & Phoenix Chorale

By Ola Gjeilo & St. John of the Cross - Ola Gjeilo, Alison Chaney, Charles Bruffy & Harrington String Quartet

The Spheres, "Kyrie eleison"

By Ola Gjeilo & Mass Text - Charles Bruffy & Phoenix Chorale

Charles Bruffy & Phoenix Chorale

Prelude, "Exsultate, jubilate"

Charles Bruffy & Phoenix Chorale

By Mass Text & Ola Gjeilo - Phoenix Chorale & Charles Bruffy

Phoenix Chorale & Charles Bruffy

Charles Bruffy, Ted Belledin, Ola Gjeilo & Phoenix Chorale
11 Songs, 59 Minutes
Released:

Feb 1, 2012

℗ 2012 Chandos
Ratings and Reviews
Other-worldly
I've had the opportunity to hear some of these works performed by the Phoenix Chorale in person. They are breath-taking. This collection of Gjeilo's work performed by a body of musicians who know him and what he's attempting to express so intimately is not to be missed.
Simply One of the Greatest
I, myself have performed three of these songs in choir. One of which is Northern Lights and i was in the Group that first officially performed it and i met and became friends with Ola. He is one of the best composers of this generation. All of he's works go beyond beautiful. they each are Pure Magic! If u love classical music, it would be a sin, not to listen to this album!
Fantasgreat
I laughed, I cried...it was better than Cats! A vocal tour de force! Seriously,beautiful.