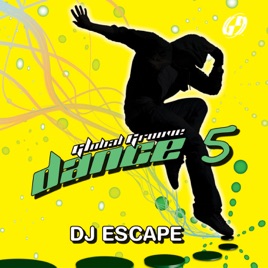 TITLE
TIME

If It Wasn't For Love (DJ Escape & Tony Coluccio Mix)

Deborah Cox

8:15

Hotel Nacional (Ralphi Rosario Mix)

Gloria Estefan

7:16

Love Slayer (Ralphi Rosario Mix)

Joe Jonas

6:00

Key To Your Soul (DJ Escape & Johnny Vicious Mix) (feat. Debby Holiday)

John LePage

6:15

Why Can't U Be (Stephan Grondin & Alain Jackinsky Mix) (feat. Ceevox)

Stephan Grondin

6:00

Work It Out (DJ Escape Mashup) (feat. Pepper MaShay)

DJ Jeroenski & Eddie Baez

4:45

We Are House (Norty Cotto Tribal Dub)

Housebreeders

5:15

A Night Summer Dream (Antranig Mix)

DJ Chus

3:44

Listen Bitch (DJ Escape Mix)

DJ Escape & DJ PP

6:09

World War 4 (Original Mix)

Chad Jack & Nasty Pig

6:00

Like It (When We Do) (Stephan Grondin & Alain Jackinsky Mix) (feat. Maya Simantov)

Yinon Yahel

5:03

Time (The Cube Guys Mix) (feat. Lisa Millett)

LaMessa

5:45

The Good Life (Original Mix)

DJ Wise & DJ Kobe

5:09
13 Songs, 1 Hour, 15 Minutes
Released:

Mar 6, 2012

℗ Centaur Entertainment, Inc.
About DJ Escape
DJ, remixer, and producer DJ Escape (aka Jeff Jonas) began spinning turntables in the early '90s, inspired by the growing popularity of the hip-hop scene. The opportunity to start playing it came after teaming up with DJ Skribble. However, the newcomer turned into house music after meeting Junior Vasquez during a performance at New York's Palladium.

In addition to his first mixes, including Junior Vasquez's "Be Quiet" and Ce Ce Peniston's "Finally 2000," the New York-based DJ Escape emerged as a solo artist with the release of a single called "Everybody Get Up" in 1998. At the age of 23, Jeff Jonas became A&R coordinator for Groovilicious Music, which released his first full-length mix record called Party Time 2002. ~ Drago Bonacich
45 million songs.
Three months on us.
New subscribers only. Plan automatically renews after trial.