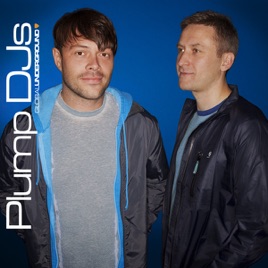 TITLE
TIME

What You Need (Proxy Remix)

Tiga

Massive Moments (Martin Horger's Martial Art Mix)

Members of Mayday

Crazy Love (Peo De Pitte Remix)

Drumattic Twins

Daily Disco (Boys Noize Remix)

Lützenkirchen

Ghost Train (Lee Mortimer Remix)

DJ Zinc & Dave Spoon

WTF (Dub) [feat. Kid Sister & Pase Rock]

Tittsworth

Me Plus You (feat. Wizard Sleeve)

Black Noise

African Chant (Top Billin Mix)

DJ King Tutt & Scottie B

Precinct (Plump DJs Remix)

Stanton Warriors

Make You Freq (Miles Dyson Mix)

Filthy Rich

Rocksteady (LA Riots 'Shake It All Night' Mix)

Atlantic Connection

Shirley You Can't Be Serious?

Alex Metric

Room Is Spinning Quickly (feat. Shawniemon & Caswell)

Haggstrom

Global Underground: Plump DJs, Pt. 1 (Continuous Mix)

Global Underground: Plump DJs, Pt. 2 (Continuous Mix)
37 Songs, 4 Hours 57 Minutes
Released:

Oct 11, 2009

℗ 2009 Global Underground
Ratings and Reviews
Global Underground's WORST EVER Release. Most Of It Is Not Even Music.
When I listened to these guys' Podcast I thought to myself - Are they for real? - I mean they are SO TERRIBLE. Then I just went through about half the samples to make sure I wasn't mistaken and I have got to say I don't get it. I mean most of this doesn't even sound like music to me. What happened to the management at Global Underground? How did these guys even get an appointment much less a double album? This is crazy bad according to me.
Nu Breaks lllllllllllllove it
I am happy that GU is not just putting out progressive house. Nu Breaks are dope! Was wondering if the Adam Freeland was a fluke but they really get it. If you are into the whole Deep Dish thing definitely not for you. This is for true electronica fans....kinda wondering why it is in the Dance Section.
Not the Plump DJ's I grew up with!
I am a huge fan of the Plump DJ's, and in the last decade of 4 or so albums they have never done me wrong...until now. This is a distinct departure from their usual breakbeat deliciousness...I guess being on the G U series they had to...trance it up a bit? or something? the album is not bad, there are a few good tracks on it (Kingstonlogic and Ghost Train among them) But overall I was sadly underwhelmed...but that's OK, I still think the PDJ's are one of the sickest breakbeat duos alive, and any of their other albums will treat you right.
About Plump DJs
Plump DJs Lee Rous and Andy Gardner are responsible for one of the fattest sounds of the new millennium, a throwback fusion of acid house and electro-shock heard all over Britain's dancefloors, as well as Levi's commercials and Sony PlayStation games. Working out of their Laboratoire Plump studio in deepest, darkest Soho, the duo perfected its style with early singles "The Push" and "No Way" for Finger Lickin'. Along with Armand Van Helden and Ganja Kru, the pair remixed War for the Grooves & Messages hits collection and found themselves being hyped by leading British DJs from radio (Pete Tong, Judge Jules) and the clubs (Fatboy Slim, Sasha). Remixes followed for Orbital, BT, Freestylers, and Elektronauts, and the full-length debut A Plump Night Out dropped in 2001. ~ John Bush
ORIGIN

London, England

GENRE