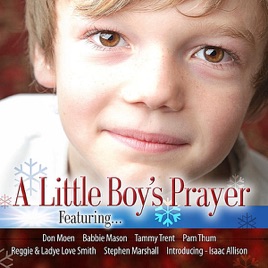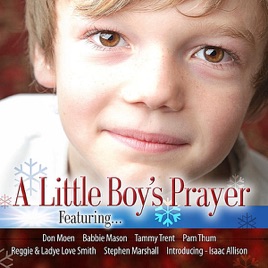 TITLE
TIME

Joy to the World (feat. Don Moen)

Pam Thum & Stephen Marshall

Angels We Have Heard (feat. Reggie & Ladye Love Smith)

Pam Thum & Stephen Marshall

Go Tell It on the Mountain (feat. Babbie Mason)

Pam Thum & Stephen Marshall

Christmas in Color (feat. Tammy Trent)

Pam Thum & Stephen Marshall

Glory to God in the Highest

Pam Thum & Stephen Marshall

Away in a Manger Medley (feat. Isaac Allison)

Pam Thum & Stephen Marshall

Pam Thum & Stephen Marshall

Pam Thum & Stephen Marshall

Angels We Have Heard (Instrumental)

Pam Thum & Stephen Marshall

Away in a Manger (Instrumental)

Pam Thum & Stephen Marshall
12 Songs, 42 Minutes
Released:

Nov 6, 2010

℗ 2010 Stephen Marshall
Ratings and Reviews
A Little Boys Prayer
Oh now this is what Christmas music is all about!
It takes me somewhere sweet and safe and makes me smile and what to look at life with gratefullness!
Timeless music for timeless time of year!
THE CHRISTMAS MUSICAL FOR YOUNG AND OLD ALIKE....
You'll be talking about this production long after the Christmas holidays are through. I am sure Jesus is proud of the talent, time and care that went into making every excellent note count on "A Little Boy's Prayer". Make this a part of your Christmas repertoire and invite your church to host the musical for it's Christmas production. FIVE STARS!!!
Music for all! such a fun album.
This gives such a variety to all.
About Stephen Marshall
Stephen Marshall Howell was born on March 13, 1976 in Toledo, OH. It was here that he attended kindergarten through eighth grade at Regina Coeli School. After moving to Temperance, MI in 1989, Stephen went to Bedford Senior High School, where he graduated in 1994. It was during his time there that he became heavily involved in writing and music. He bought his first guitar in 1991 after being mesmerized by the fleet-fingered talents of Led Zeppelin's Jimmy Page.

Howell worked as a staff writer for his high school newspaper beginning in 1993, where he started writing record reviews. After receiving a small journalism scholarship from the Great Lakes Interscholastic Press Association, Howell pursued his degree at Bowling Green State University in Bowling Green, OH, beginning in the fall of 1994. Over the course of the next year, he spent his spare time contributing to that school's paper, The BG News. At the start of his sophomore year, he changed his major course of study to popular culture in order to get a wider grasp of not only print media, but television and film as well. It was also at this time that he decided to make his specialization area music history.

After being approached by a friend in the fall of 1995, Howell decided to participate as an on-air personality on the campus AM radio station WFAL. It was with the station that he had the opportunity to do a live broadcast from the Rock & Roll Hall of Fame in March of 1996. He worked for the station until he graduated in the spring of 1998.

During the summer of 1997, Howell interned with Montage, a Toledo-based quarterly magazine that covered arts and humanities, while also pursuing his musical interests with an all-original rock band called Fuzgunn. Howell was both the leader and guitarist/vocalist for the group. The band played local parties and radio shows, as well as having the opportunity to spend some time in Bowling Green State University's music studio recording an EP. The band broke up in December of 1998.

This wasn't the end of his musical involvement, however. He acted as the lead guitarist for two other Bowling Green-based groups. The first of these, Achilles Last Band, was a tribute band to the music of Led Zeppelin. The second group, Death to the Pixies, also paid homage to another band, the Boston-based Pixies.

Upon receiving his bachelor's degree in May of 1998, Howell began freelancing for two newspapers, the weekly Monroe Guardian in Monroe, Michigan and the monthly Toledo City Paper in Toledo. In January of 1999, he was brought on full-time by the Toledo City Paper as an editorial research assistant.

Howell is a staff writer for the Toledo City Paper, which has since gone weekly. It's here that he also works on the paper's sister publications, the Toledo Area Parent News, the Ann Arbor Family Press, and Baby Steps. ~ Stephen Marshall Desert Island list of recordings: 1- Led Zeppelin, Led Zeppelin 2- Mudhoney, Every Good Boy Deserves Fudge 3- Juliana Hatfield, Bed 4- Mahavishnu Orchestra, The Lost Trident Sessions 5- Pixies, Doolittle 6- Bauhaus, Swing the Heartache: The BBC Sessions 7- Ted Nugent, Ted Nugent 8- Jane's Addiction, Ritual de lo Habitual 9- U.S. Maple, Long Hair in Three Stages 10- The B-52's, The B-52's 11- Sloan, Twice Removed 12- Beatles, White Album 13- Television, Marquee Moon 14- Dirty Three, Sad and Dangerous 15- Minutemen, Double Nickels on the Dime 16- Guided By Voices, Propeller 17- Husker Du, Zen Arcade 18- Slint, Spiderland 19- Heroic Doses, Heroic Doses 20- Fugazi, 13 Songs 21- Thinking Feller's Union Local 282, Strangers from the Universe 22- Blue Cheer, OutsideInside 23- Soundgarden, Badmotorfinger 24- Stooges, Fun House